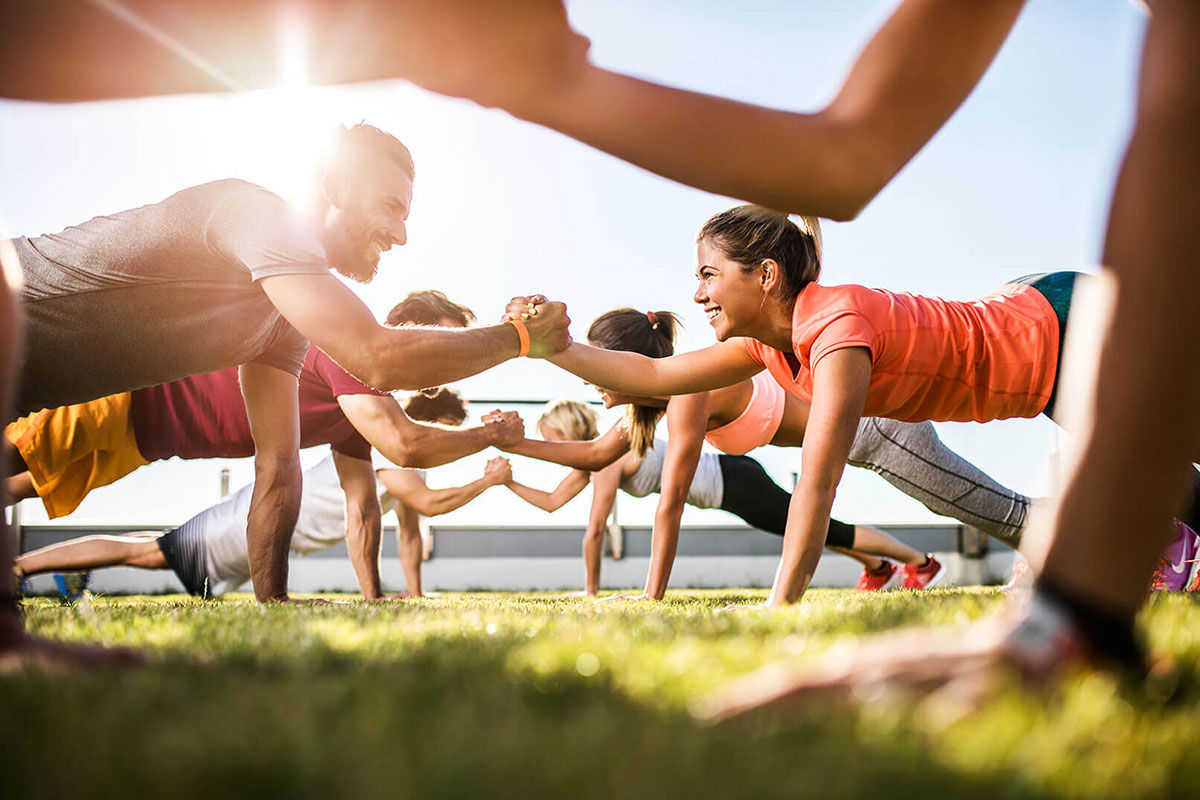 One way to stir up excitement, improve class attendance and promote a feeling of community in your gym's group exercise department is to host event-themed classes.
Here are three ideas for fun themes that would work well over the next few months (and look great posted on Facebook and Instagram!).
Winter Olympics
Chances are many of your class participants will be tuning in to watch the Winter Olympics this February. Why not inspire them to reach their own personal best with Olympic-themed workouts? There are several ways to debut this type of class:
Host a novel, one-time class that you don't offer on your regular schedule. Require pre-registration.
Plan a short program that runs concurrent with the dates of this year's Winter Olympics (Feb 9-25). Limit class numbers.
Integrate Olympics-inspired themes, games or exercises into the regular classes you already teach.
Regardless of which approach you take, program a class (or portion of the class) around gym games that reflect the Olympic spirit. For example, divide the class equally into small groups, each with an assigned color or other fun identifier, such as "Dog Lovers," or "Winter Birthdays." These groups compete against each other like countries do in the Olympics. You might choose to award token "medals" to winning teams or just keep it more casual.
Any games that build camaraderie in a bootcamp class would translate nicely to an Olympics theme. Consider how you can use available props — cones, hula hoops, BOSU Balance Trainers, agility ladders — to devise drills that mimic common Olympics and/or winter-sports movements, race courses or concepts. For example, use dumbbells, yoga blocks or even rolled-up pieces of paper to create a "Pass the Olympic Torch" relay. See how you might be able to simulate speed skating or cross-country ski exercises with Gliding discs.
Marketing tip: Get started promoting this event-themed class asap! You'll want participants to hear about it before the official Opening Ceremonies in South Korea. However, since it might take time for people to get into the spirit of the Games, make enrollment to your special class or program possible for a few days beyond the Opening Ceremonies.
Valentine's Day
Love it or hate it, Valentine's Day comes around every February 14. It makes sense to play off of its central theme — LOVE — with a class devoted to the idea of celebrating a fondness for fitness. One of the most obvious ways to conjure up a Valentine's theme is with decorations: hearts, balloons, pink, red, etc. But don't stop there — "here are a few additional ideas:
D.J. a playlist of popular love songs to play in class.
Plan a special partner workout where members can bring a significant other or loved one at no additional charge. This allows newcomers to try out the facility and regulars to enjoy a change of pace with partner exercises.
Give out Valentines to participants, but with the purpose of using them for a fun game: Using store bought cards or DIY hearts made out of colored paper, write a different exercise (e.g., burpees, squat jumps, pushups, walking lunges) and a different number on each Valentine. Be sure to write those same numbers on little individual pieces of paper that you keep with you. Hand out the Valentines to participants as they enter class. During class or as part of a particular drill, draw a number from your own stash of little papers. The person whose Valentine has the selected number on it reads out the exercise that's also written on their Valentine. The whole class then performs that exercise for whatever rep count or interval length you assign. Keep drawing numbers as time allows.
Marketing tip: You can only really run a Valentine's class on one day. No one cares about this holiday before or after Feb 14. Leave yourself ample time to promote it, but probably not before Feb 1. Consider time of day, as well. Depending on your gym's members, people might flock to a dinnertime/evening class on Feb. 14, or they might be out on a date instead.
Start of Spring
Mark your calendar: the first day of Spring is March 20. With birds singing and flowers blooming, Spring can feel whimsical, and so it's especially compatible with lively workouts and fun fitness offerings (especially if the weather is decent enough to hold workouts outside). You could celebrate Spring in a single class on March 20. However, group fitness participants might be especially receptive to signing up for ongoing, extracurricular programs because people are eager to turn over a new leaf and try something new at this time of year. With that in mind, consider playful programming with a "Spring Cleaning" spin to it. Use messaging that promotes the idea of organizing and streamlining your approach to fitness, and maybe even nutrition too (depending on the resources you have available for the program).
Another idea is to create a Spring series that culminates with a popular outdoor community event like a 5K or a club-organized hike. In the weeks or months leading up to the big event, hold weekly classes specifically designed to help participants get prepared. These teaser workouts are a good way to build community and generate excitement as the event approaches.
Marketing tip: With Spring comes Spring break. Know when the schools in your community hold theirs. If the break coincides with the timing of your program, consider if that matters. Some people vacation during Spring break; university students or parents of school-aged kids might be unavailable. Know your demographic and set dates accordingly.
Amanda Vogel, MA, human kinetics, is a self-employed fitness instructor, presenter and writer in Vancouver, B.C. In addition to being a social media consultant, Amanda tests fitness gadgets, gear and clothes and writes about them on her blog www.FitnessTestDrive.com. Find Amanda at @amandavogel on Twitter, @amandavogelfitness on Instagram and @FitnessWriter on Facebook.