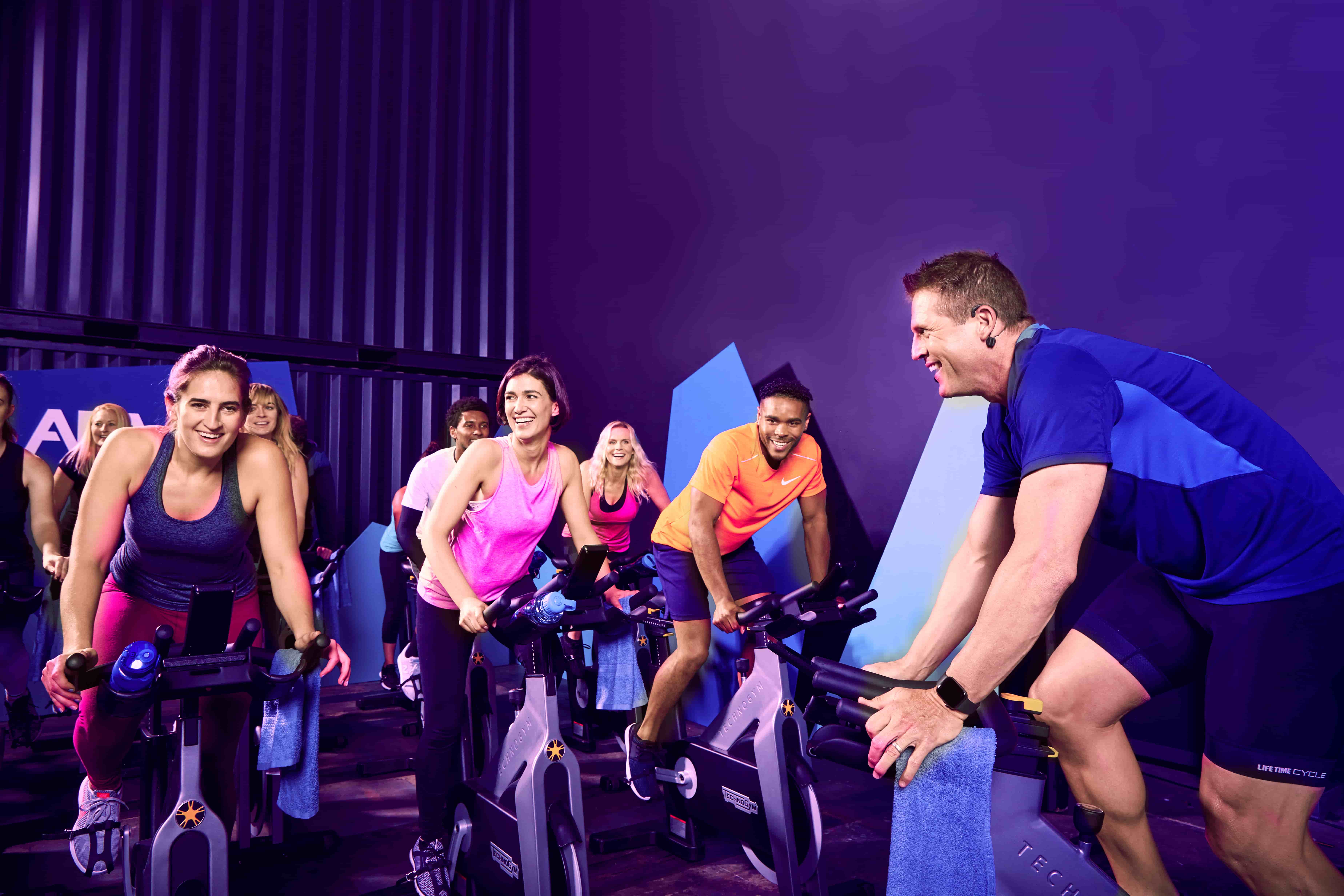 On your marks, get set, cycle!
Indoor cycling is more popular today than it's ever been. More gyms and clubs are offering classes centered around this thrilling workout - and people are enrolling in them at a breathtaking speed. That means there is a real need for qualified indoor cycling instructors.
Good news: You can get the training you need – and that the fitness industry desires - through AFAA's G.E.A.R. Indoor Cycling Instructor Certification. In as little as 8 weeks, you'll be equipped with everything you need to be a rock star indoor cycling instructor of the highest order.
Of course, there are several fitness companies claiming to have the most cutting-edge, state-of-the-art, insane-in-the-membrane indoor cycling training available. So why go with G.E.A.R?
In the following article, we'll explore the finer points of G.E.A.R. certification – and why it stands apart from the competition.
What is G.E.A.R.?
Before we do that, in case you're curious (and we know you are), let's break down what G.E.A.R. stands for:
GOALS
You'll gain a deeper understanding of the goals of your classes while maximizing your personality through communication and engagement strategies.
ENERGY
Create exciting and inspiring ride programs – ones that perfectly sync your coaching with music - infused with adrenaline and fun, and rooted in science.
ACCOUNTABILITY
As an AFAA Certified Indoor Cycling Instructor, you'll provide your class participants with valuable opportunities to work hard and succeed.
RESULTS
You'll produce evidence-based, next-level results (along with proper form!) to all who take your classes, making you one of the most popular instructors in town!
Now that we've gotten that out of the way, let's put G.E.A.R. to the test!
Gears of Experience
Unlike several companies that seemed to have appeared out of nowhere overnight, AFAA has led the way in certifying group and personal trainers for over 35 years. We understand what it takes to make a knowledgeable, engaging, and safe instructor.
All those valuable years of experience have been firmly placed into every moment of G.E.A.R. Indoor Cycling Instructor Certification to make it a unique and memorable program for all skill levels.
A Connected Experience
Have a mobile device and/or a computer and a passion for fitness?
Perfect! You've got what it takes to enroll in G.E.A.R. You'll learn when and where you want - from the comfort of your home, your gym, or wherever's convenient for you.
And you'll enjoy our new course delivery system featuring interactive text with high quality videos, infographics, and images. It's an immersive experience that's meant to be as enjoyable as it is educational.
…That's Not Connected to Anyone
Unlike other companies offering indoor cycling instructor programs and certifications, G.E.A.R. is not connected to a bike manufacturer or specific format.
We focus on effective and efficient techniques, and never alienate instructors from employers by calling out what other cycling partners may or may not do.
As an AFAA Certified Indoor Cycling Instructor, you'll have expertise that's appropriate for all styles and brands so you'll be employable anywhere. Or, if you prefer, start your own class!
It's All About You
Several companies focus on the proprietary features of "their" bike. While you'll learn just about everything you need to operate cycles for almost any company, you'll spend a majority of your time gathering the skills that will transform you into a powerhouse instructor.
Whether you're a newbie or a veteran trainer, there's content in G.E.A.R. that everyone can benefit from, no matter your skill level.
You'll learn what turns good instructors into great ones. By focusing on the positive, we'll teach you strategies for executing the intangibles, such as coaching and communication, cueing, and engagement. We'll also teach you confidence-building exercises to bring out your inner trailblazer.
Stand Out with Science
Many companies and brands focus on techniques and athleticism. While these are important, it's equally important to know the science behind the exercises your class is performing.
With AFAA's G.E.A.R., you'll be familiar with all the science – and you'll be able to convey it in a way that's uncomplicated and easy to understand.
Your class participants will find the science relevant and current since you'll present the facts in a way that's compelling and makes sense in the cycling world.
The Pedal to the Metal (OR Pop, Techno, Rock, Whatever You Prefer)
One key skill to being a great instructor is learning how to deliver effective, engaging, and evidence-based rides. With our interactive ride building tool, you'll learn how to take the visions you have for amazing rides and turn them into a reality.
We also cover all of the various ways to infuse one of the most important elements to indoor cycling: music. Without exaggeration, it can make or break a class.
In G.E.A.R., you'll be provided with specifics and examples on how to deliver a killer ride using a killer playlist – and keep them in sync.
Get Your Career in G.E.A.R.
While we realize there are several programs, classes, and certifications out there to choose from, keep in mind that every element of AFAA's G.E.A.R. Indoor Cycling Certification has been designed to help you succeed.
By focusing on timeless skills and scientifically sound techniques, you won't be a fly-by-night trendy instructor. Rather, you'll be one who's been equipped for long-term success.
With the sport hotter than ever, now is the time to get your indoor cycling instructor certification – and when you do, G.E.A.R. is the way to go!