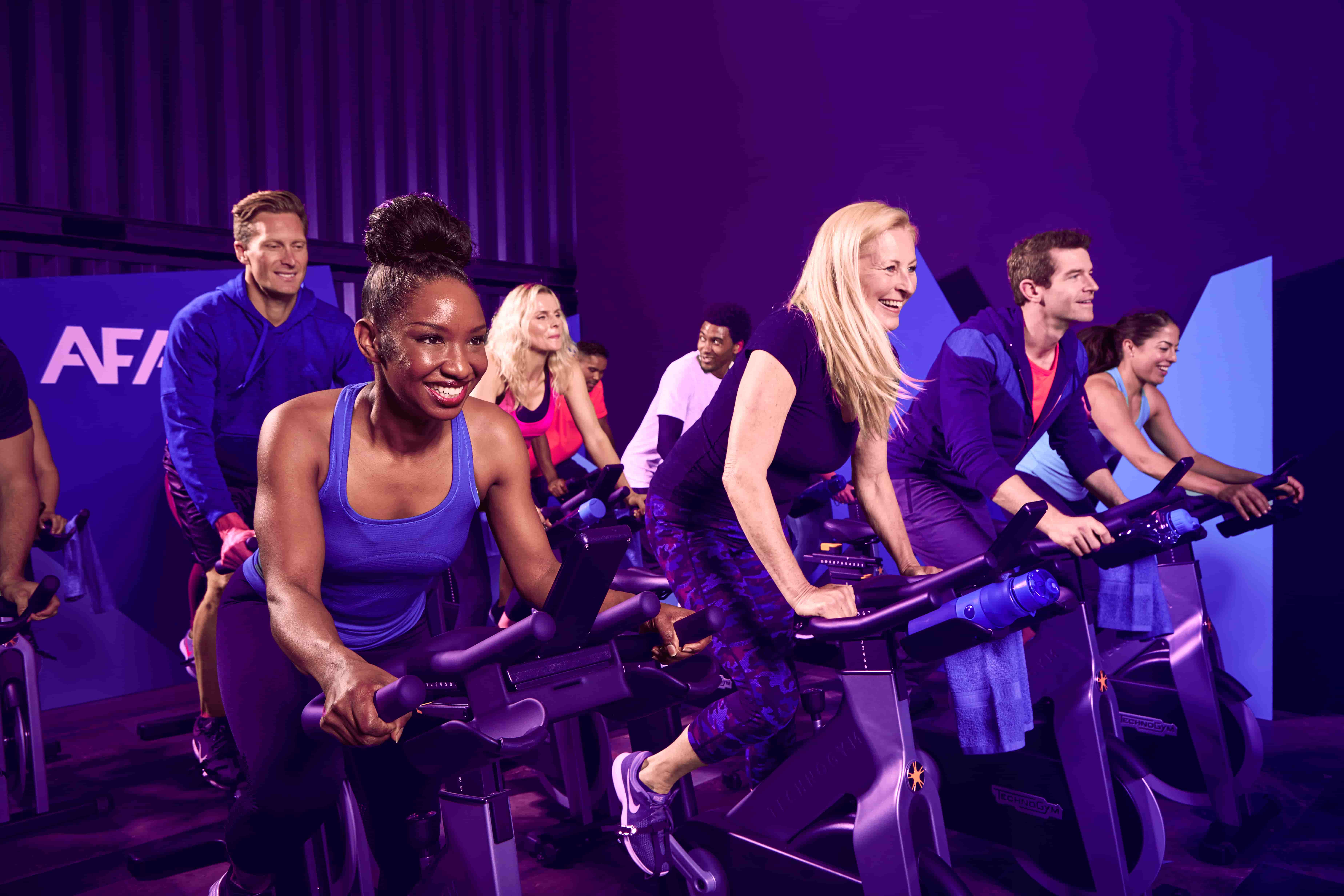 In case you haven't heard, AFAA has launched an improved version of G.E.A.R. Indoor Cycling Instructor Certification. It's one of the most robust and revolutionary indoor cycling programs on the market. We think you'll feel the same way.
Naturally, some of you may have questions about it, and we're here to answer them. So without further adieu, let's get to your inquiries!
In this article:
What exactly does 'G.E.A.R.' stand for anyway?
It's an excellent question, and we're glad you asked! G.E.A.R. stands for all of the most important principles of the program: Goals, Energy, Accountability and Results.
GOALS
You'll gain a deeper understanding of the goals of your classes while maximizing your personality through communication and engagement strategies
ENERGY
Create exciting and inspired ride programs – ones that perfectly sync your coaching with music - infused with adrenaline and fun, and rooted in science
ACCOUNTABILITY
As an AFAA Certified Indoor Cycling Instructor, you'll provide your class participants with valuable opportunities to work hard and succeed
RESULTS
You'll produce evidence-based, next-level results to all who take your classes, making you one of the most popular instructors in town!
What's new about G.E.A.R.?
Indoor Cycling is rapidly increasing in popularity, with several brands - both new and established - jumping into the competitive marketplace to offer their own versions of instructor courses.
With this in mind, AFAA built upon our specialization to make it a certification. You'll be able to take this certification and be an indoor cycling instructor with any brand, in any gym.
Here's what else has changed:
Cutting-Edge Delivery System and Interactivity
You'll learn on a new innovative edge delivery system featuring high-quality videos with interactive text, infographics and images (we'll cover this more later.)
Updated Content
In the new AFAA G.E.A.R. Indoor Cycling Instructor Certification, you'll find the most current science and concepts, all related to the indoor cycling environment.
A More Complete Learning Experience
We not only tell you the 'how' and the 'what', but we also provide the relevant 'why' so you can grow as a complete instructor. The art and science __ of indoor cycling are both presented.
What makes G.E.A.R. stand out from all the other indoor cycling instructor classes and certifications?
True; there are so many out there to choose from, it can make your head turn. So why is AFAA's G.E.A.R. so unique? Here are the highlights:
You'll learn different ways to use music to enhance your class and provide specifics/examples on how to deliver a ride using music.
Most indoor cycling class instructors are trained for brand-specific cycles or styles of teaching. As an AFAA Certified Indoor Cycling Instructor, you'll have expertise that's appropriate for all styles and brands - which means more opportunities for you!
We focus on effective and efficient technique and don't alienate instructors from employers by calling out things other cycling partners may or may not do.
Everything you need to be a great instructor is in one easy-to-use course that's accessible anywhere, designed with the needs of the learner in mind.
You can read more about this in our previous blog: G.E.A.R vs. T.H.E.M.
So where is G.E.A.R held? Do I have to go to a gym or a classroom?
The new G.E.A.R. program begins whenever you're ready to begin! You'll take G.E.A.R from the comfort of your own home, around your busy schedule.
As long as you've got a mobile device and/or computer, you're ready to jump in.
Everything in the new G.E.A.R. Indoor Cycling Instructor Certification has been geared to your success. Each section is robust, filled with interactive illustrations and infographics, making the lessons all the more memorable
You'll watch videos throughout the program, all of which are entertaining and engaging. The quizzes are short sprints, strategically placed for your benefit. You'll be amazed at how quickly you retain a lot of information!
Plus, all of this high-quality content is 100% online, compatible with all of your devices, so you can learn from wherever you are – at home, or on-the-go.
In as little as 8 weeks, you'll become the instructor you were meant to be, capable of reaching every participant, and leading all levels of indoor cycling classes – with absolutely no guesswork.
Can I be a newbie to take G.E.A.R.? Or do I need to have some years under my belt?
Good news: You don't need any previous experience to take AFAA's G.E.A.R. Indoor Cycling Instructor Certification.
But even if you've been an instructor for years, you'll discover invaluable and intangible strategies and techniques to help you inspire and motivate more clients and class participants than ever before.
Here's just some of what the program covers:
Create powerful, effective ride programs
You'll utilize scientifically sound and safe techniques and cycling form – and provide your class participants with incredible results.
Program compelling music playlists
Music is the pulse of every indoor cycling class. With G.E.A.R. you'll learn to harness its power - and bring another level of energy to your classes.
Maximize your talents – and feel self-assured from Day 1
Your amazing personality will come shining through with confidence building coaching, communication, and engagement strategies.
We hope this has answered some of your questions about AFAA's new G.E.A.R. Indoor Cycling Instructor Certification! And if it hasn't, please reach out to one of our Program Advisors at 800-446-2322. They'll answer any lingering questions you might have.
Ready to sign up? You can call that same number, or learn more here