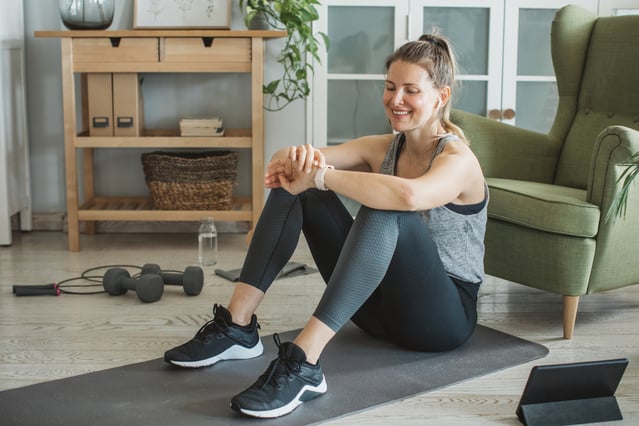 Group fitness instructors are a driven cohort of social beings and helpers. Social distancing can feel like a significant loss. The once day-to-day connection with clients has been replaced with home solitude. This can feel traumatic to some individuals.
Once emotions have settled and a new norm has been established, instructors should take advantage of this social pause and come out more durable and skilled than before. Use this time as your own "Before" and "After." Take stock of your skillset, education, and certifications "before" social distancing, and let's get to work on the "after." Here are four tips to help with the "After."
Explore New Ideas
Enhance Your Education
Develop Your Virtual Services
Cultivate Different Professional Skills
#1 Explore New Ideas
Because the world, including the fitness world, has gone virtual for connection, it is a great time to visit what other ideas are out there. There are hundreds of fitness influencers on Instagram posting free content. Hashtags can be followed for all areas of the body and types of equipment available.
Many of the major fitness companies have taken to Facebook and other social medial platforms to offer free content and free trial memberships. While their intent may be to connect with participants versus educators, this is a great place to begin exploring other certifications and fitness genres.
YouTube is another excellent platform to be exposed to new and exciting fitness ideas. Many credible organizations, top-level educators, and even celebrity trainers have YouTube channels connecting viewers to great tips and creative ideas.
But just because a celebrity trainer says it, doesn't mean it's true. It is vital to investigate and evaluate the content or program before attempting to integrate it into your training programs. Also, studios from all over the country, all over the world are now online. Enjoy yoga from India, Barre from New York, or HIIT from Los Angeles. The only limitation is time.
#2 Enhance Your Education
Closing down from social contact also closes the opportunity for face-to-face education. Most group fitness certifications have adjusted their requirements and their prices to account for social distancing. Many certifications, once offered only at conventions or certain cities, are now available online from the comfort of home. Certifications that were once out of reach are now attainable.
Many testing centers are adjusting to allow for at-home testing as well. This may be a once in a lifetime opportunity to obtain that dream certification. Webinars, Facebook live, YouTube Live, and Instagram Live, have all become the hosts of incredible virtual fitness education. Searches for virtual training will bring up some great deals and education that was likely out of reach before social distancing.
Search out the companies and certifications that are on bucket lists or vision boards. Stay up on the certifications currently held. Continuing education for current certifications is also up for grabs in the virtual world.
#3 Develop Your Virtual Services
While social distancing may be a challenge and uncomfortable for some, it is peaceful and calming for others within the fitness community. Working out in the privacy of home might be preferred by many clients.
Bringing group fitness classes or personal training offerings into the virtual world is a great way to create income during this time, as well as generate additional income in the future. It is worth it to investigate and open-minded when it comes to offering virtual classes live. Begin by starting to create a virtual following in addition to keeping connections with an established fitness community.
#4 Cultivate Different Professional Skills!
Group Fitness is a world of endless opportunities, with even more in times of social distancing. Now that face-to-face contact and in-person group fitness classes have paused, take advantage of other professional skills you can cultivate.
One place of focus for Group Fitness Instructors is writing fitness plans for clients. Begin by creating general fitness plans that can be individuals for current and new clients.
Such plans may be for general fitness or performance training. Also, the Fit Pro can expand by designing cardio and even recovery training plans for clients. Other options are to connect with clients and other professionals by writing blogs or newsletters. Provide easy at-home workout tips, helpful recipes, and ways to be mindful in their home.
Or, maybe it is time to get creative and begin that inspirational book you have always dreamt about writing. Or, create that new piece of fitness equipment that you know will change lives!