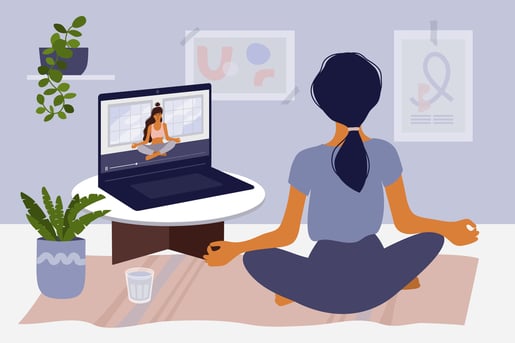 In a world that's changing every day, from how we connect with our friends and neighbors to the ways we engage in our favorite fitness classes and activities, one thing that isn't changing is Yoga. The physical and emotional sides of this ancient practice have outlasted every other fitness trend in the books. Yoga is still here, and it's here to stay - digitally and in person.

If you've fallen in love with your own Yoga practice, or maybe just dabbled in it here and there, know that teaching Yoga can open up your fitness career like no other. Let's break down the benefits of Yoga and five key reasons why becoming a certified Yoga Instructor this year might be your best move.


Navigate to each jump link below to find out the 5 biggest reasons you should start teaching yoga today!
#1. You Can Teach Yoga Anywhere
While many Yoga classes traditionally happen in quiet, serene, clubs, and studios with eager participants scattered about on colorful mats, fitness facilities aren't the only places to get the great benefits of this discipline. Yoga is one of the most mobile fitness practices, strengthening the mind and the body wherever you go – at home, outside, and anywhere you can set down your mat. With minimal equipment required and movements primarily consisting of body-weight exercises, you can teach Yoga just about anywhere, in groups, or one-on-one.
As studios, gyms, and other fitness locations throughout the world temporarily closed their doors to help slow the spread of COVID-19 earlier this year. Yoga was able to live on. Instructors all over the globe turned to technology to virtually deliver group fitness classes to their participants, continuing to enhance their practices, and ensure access to the masses.
Today, as the slow and steady phased reopening of the country starts to happen, Yoga can be available digitally and in-person. With some areas now allowing permitting outdoor fitness classes, the practice can even be taken outside.
With the phased reopening continuing, the reality is most studios and fitness centers will likely be returning to business with revised occupancy restrictions. Guidelines vary by state and local government regulations. However, fewer members will probably be allowed into fitness facilities at any one time. This will help account for space constraints and safe social distancing measures.
Club and studio hours may also be reduced to allow for thorough cleaning procedures. This means many classes may be smaller and will need to be streamed digitally to meet the needs of at-home participants. In essence, virtual platforms for teaching Yoga and other fitness classes won't be disappearing anytime soon, as they have fundamentally shifted fitness classes as we know them today. Likewise, streaming fitness content has grown exponentially since COVID-19 began spreading, so many independent instructors and fitness companies have taken to sharing their classes online.
Also, participants and instructors need to feel comfortable returning to a physical location before they will voluntarily re-emerge back into in-person classes. Everyone is moving at a different pace in this regard, so there will inevitably be those who still prefer a digital at-home experience for an extended period. Yoga can account for that option and continue virtually while also phasing back into in-studio environments.
This new approach to delivering fitness content has re-shaped the way we think about sharing the mental and physical benefits of the practice and enabled Yoga to further brighten the lives of so many practitioners, especially in challenging times. When physical buildings are closed, and studios and equipment choices are limited or unavailable, instructors everywhere can take their minds, their bodies, and their mats with them to spread the joy of Yoga.
Keeping this engagement alive with participants everywhere has enabled a continued practice, and the much-needed mobility, strength, stretching, and balance we all need physically, on top of the mindfulness benefits that keep our inner focus sharp. Throughout the world, Yoga remains a calming, grounding, and centering force in our lives during a time of genuine uncertainty. Investing in your education and becoming a Yoga instructor can truly open up teaching options for you no matter where you go and how you deliver classes to your participants.
#2 Yoga is for Everyone
With endless fitness trends on the market, a tried and true way to reach everyone is through Yoga. Whether you're doing physical postures or sitting peacefully and connecting with your breath, you're doing Yoga. Yoga means something different to everyone, and we can all take from it what we need at that very moment to fuel our souls. Sometimes the body craves strength-building and physical movement. Sometimes it requires calm, flexibility, and focus. Often it's a combination of the two. Yoga delivers on both.
Wherever you are on your journey through Yoga, you've probably experienced moments like these when you need a little more inner awareness and breathwork, or you're searching for an energized practice with ample heart-pumping energy. The better you get at listening to your body, the better you'll be at extracting what you need out of your daily Yoga practice. Your participants need the same things, and your guidance as an instructor can help them get there.
One of the most wonderful things about Yoga is how many ways it can be modified for all participants and fitness levels. There are poses, sequences, breathing exercises, and options for all, so everyone can indeed find their comfort zone in Yoga, whether a beginner or a seasoned practitioner. A beautiful aspect of this discipline is how much growth potential exists for everyone who gives it a try.
As a yoga instructor, you can help assess the needs of your participants and guide them through options and modifications to help each individual find what they need most, just when they need it. It can indeed be life-changing - physically and emotionally - for you and your students.
#3. Yoga Helps You Achieve a Balance of Body and Mind
When you break down the science behind Yoga, both the body and the mind benefit significantly from this practice. We all need the combination of strength, flexibility, mobility, balance, and mindfulness that Yoga delivers. Without Yoga, we can unintentionally gravitate too far toward one type of movement, or even find ourselves limited by the detriments of a sedentary lifestyle.
If you've ever been a runner, a swimmer, a cyclist, or any type of athlete engaging in a continuous repetitive motion, you may have experienced an overuse injury, especially if an effective recovery routine wasn't high on your priority list. Also, whether working at home as we are today, or in an office, many of us have begun to spend endless time in our desk chairs sitting in front of a screen for hours on end. That can cause a host of other issues to the body, such as Upper Crossed Syndrome or other back, neck, and hip discomfort.
When you add yoga into your routine, your body begins to find the balance it needs to stay healthy and strong. Yoga helps challenge you to move in different planes of motion, so from hip openers to twists, you're using your physical structure the way it was meant to move - in multiple directions. You're allowing your muscles to experience the stress reversals they need after spending so much time moving in one direction, or not moving at all.
As a Yoga Instructor, identifying these needs and pain points will become key to your participants' success. The deeper you get into human anatomy, the more actionable techniques you'll be able to deliver to your classes so everyone can stay healthier. With the proper balance of multi-planar movement and functional mobility, Yoga can be a long-term game-changer that keeps the committed participant going strong and avoiding injury for years to come.
#4. Yoga Can Prolong Your Teaching Career
This is a big one for fitness instructors, and often why many group exercise professionals stumble their way into Yoga and quickly fall in love with their practice. When you teach fitness classes regularly - whether in-person or digitally - your body is in constant motion. Over time, this creates wear and tear on our muscles, bones, joints, and more. If you're a strong instructor, you're probably more focused on your participants than yourself anyway, and that's causing even more of a disconnect with your personal well-being.
Instructors often find themselves growing their portfolios and teaching more and more as they catch the instructor bug. They start finding success in their preferred formats and pick up more certifications along the way. They build a following, grow their classes, and add more formats to their resume. In turn, they're likely teaching more and more throughout their fitness careers. If you're in this camp or want to move in this direction, teaching Yoga is one of the best ways to diversify your offerings while being kind to your body at the same time.
When you instruct Yoga classes, you're removing many of the physical stressors on the body that might multiply very quickly if you're always jumping into high-impact formats. Endless instructors have seen their professional fitness careers come to a screeching halt when they found themselves over-teaching or not doing the proper mix of strengthening, stretching, mobility, balance, and recovery.
For those who want to keep teaching for the long-haul, yoga provides this outlet. It's a practice that's easier on the body than many others and has endless progressions and regressions for all levels. Once your participants are familiar with your cueing, sequencing, and the basic poses you're instructing, yoga can also allow you to expand your coaching strategies by speaking more and moving less. As a participant, it's most advantageous to watch an instructor physically execute a pose or movement. Great teachers use a blend of showing, doing, helping, and telling to communicate with their classes and find this middle ground.
Yoga will help prolong your fitness career in many ways. The diversity of the practice alone, from Vinyasa to Yin to Restorative and more, will give you endless ways to vary what and how you teach, expanding your class offerings to your participants. It will also help you avoid excessive boredom and the burnout factor, providing you with more variety to choose from as you design your classes and build your following. When you think about investing in your future, the long game of teaching Yoga might be your best bet for you and your students.
#5. Mindfulness in Times of Uncertainty Is Medicine for the Soul
With all of the unknowns circulating throughout the world today, from when we will have a vaccine to mitigate the ongoing health crisis to how we will genuinely re-emerge fully into the world again, one thing is sure: Yoga, and the benefits associated with exercise as a whole, can help us stay calm and centered in the process.
As instructors, helping participants identify what they're feeling in the present moment allows them to be more mindful, creating an outlet to channel stress and distractions in more positive ways. It helps us all take much-needed time to concentrate on what we can control while releasing the burdens associated with what we can't. It enables us to focus inward, connect our mind to our breath, and channel our inner calm. As a Yoga instructor, we learn how to coach these practices, guide this process, and help others navigate through challenging times. Whether those challenges are external from the world or internal in our hearts, we become the solid ground that builds a foundation for both physical and mental health and wellness in our communities.
Yoga helps us pause, that moment in our day that we so rarely take for ourselves. It allows us to breathe freely and intentionally, cleansing our minds, our bodies, and our souls. We become more purposeful with our thoughts and reflect on gratitude, which we're genuinely thankful for that may be easily missed or forgotten if we don't slow down to be intentional.
When we start to think beyond our own practice and how we can help others embrace this soul-soothing way of being, we're making a difference. Yoga, as a practice and an instruction, is truly making a difference. When you devote your time, education, energy, and focus to deliver both the physical and mental benefits of Yoga to others, you're creating positive change. Today, amidst the challenges of the fitness landscape and how the world around us is continually spinning and unfolding in new ways, this change is something we all need more than ever. You can be that driving, positive force as a Yoga instructor.
Conclusion
There's no denying how the physical practice of Yoga fuels the body in incredible ways. Bringing together strength, flexibility, balance, mobility, and more, Yoga is a clear win when it comes to keeping your physical structure healthy and active for years to come. Becoming a Yoga Instructor also offers a clear career path.
The mental benefits, such as mindfulness, stress relief, and inner awareness, should not be overlooked. If you're currently a fitness professional, or a workout enthusiast ready to become an instructor, you probably crave movement, so slowing down or being still in some moments of a Yoga practice might make you a little antsy. It's normal to feel this way first, and it's essential to take a look at what engaging in a Yoga practice can do for you and your participants.
Yoga is truly one of nature's best medicines for the body and the soul. When stress consumes our thoughts and unintentionally takes over, Yoga is a great release to bring us back to a centered place. Here's the inside scoop on why teaching Yoga is something to consider.
It has immense staying power. It isn't a fad or a trend. It's an ancient and time-tested practice with substantial physical and mental benefits for long-term growth. Today, that power is multiplied exponentially as we navigate the changing landscape of our world. Whether in-person or virtual, in groups or one-on-one, Yoga is the ultimate practice for longevity in any fitness career and the bright spark we need in the communities where we live and teach every day.
References & Sources
AFAA.com. Practical Yoga Instructor Training.
AFAA.com. Certifications & Specializations.
CDC.gov. Coronavirus (COVID-19).
Eichenseher, Tasha (2020). Yoga Journal. Stressed About Coronavirus? Here's How Yoga Can Help.
Gellada, Precious (2020). Intellivideo.com. Fitness Streaming Growth Since COVID-19 Began to Spread.
Golden, Nicole (2020). AFAA Blog. How to Run an Online Group Fitness Class [Guide].
Harvard Health Publishing, Harvard Medical School (2015). Yoga – Benefits Beyond the Mat.
Link, Rachael, MS, RD. (2017). Healthline. 13 Benefits of Yoga That Are Supported by Science.
Miller, Angie (2019). Nasm Blog. Emotions in Motion: Exercise as an Anxiety Intervention
Miller, Ken (2020). NASM Blog. Correcting Upper Crossed Syndrome.
Robert, Yola (2020). Forbes. Is the Online Fitness Boom Here to Stay?