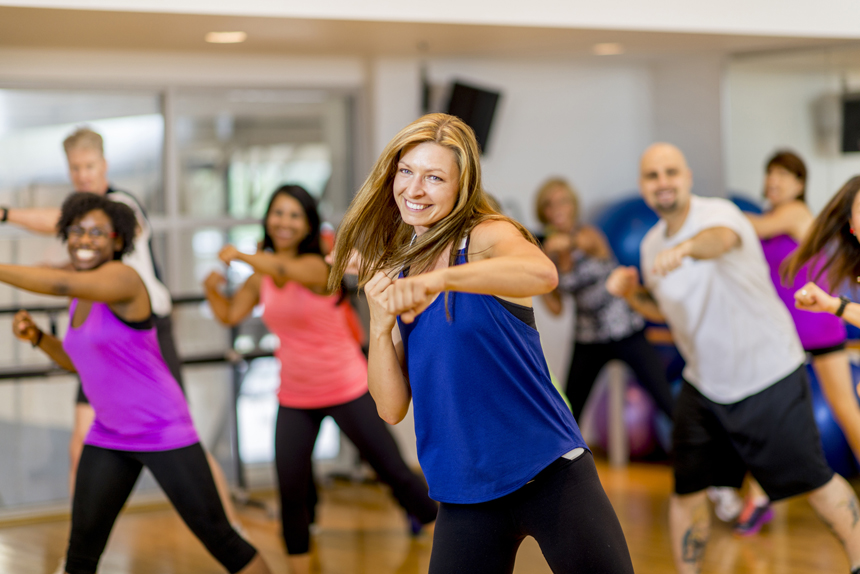 In a world full of eye-catching, flashy, and often times over-the-top fitness professionals, how does one break out of the pack to gain a following in order to make a living in the fitness field? Start by following these six steps to establish your own personal niche and build your fitness community!
Whether you are just breaking into the world of fitness or you are a passionate veteran, it is important to know you are not alone in feeling like you still have so far to go. At times we may look back on our professional history to notice a pattern developing. I, for example, had seemed to be reinventing myself every three years - a pattern that began shortly after graduating college. Every three years it seemed that life was steering me somewhere new in the fitness field. When I first began, I was hungry for experience and extremely eager to be a person who could teach anything and everything. Quickly, I began pursuing and earning all the fitness certifications I could get my hands on. At the time I felt that being a "Jack of all trades" would help set me apart from others pursuing similar dreams as mine. My goal was to build an impressive resume while gaining work experience. I was working very hard, but not very smart. Realizing that I had to make a change, I sat down and devised a plan.
1. Work Backwards from Your Goal
"Discipline is the bridge between goals and accomplishment." - Jim Rohn
Let's begin by defining your goal. Is this something you can accomplish in 3 months to one year, or will it take a bit longer? Depending on the size of your goal and the work that will need to be done, start creating sub-goals that you can achieve daily, weekly and monthly. In 2008 I set a goal to start my own corporate wellness company. Not knowing where to begin, I started by looking to those around me who had well-established businesses. Building a panel of business mentors became a strategic element to my success. I also established a wonderful business relationship with a former college friend of mine. Together we established Wellness Solutions at Work, Inc. and acquired our first corporate contract within a years' time. We moved on to set larger, scarier goals and before my 30th birthday we earned our first million dollar corporate contract. As you establish your ultimate goal(s), be certain to surround yourself with a panel of experts, others who are successful and whom you can learn from. Know that there will be massive hurdles that you may stumble upon that can, at first, make your goal seem unobtainable. These are hard life-lessons that can make or break you. Use your lessons to fuel you and lead you on your destined path. DO NOT QUIT.
2. Do Not Quit
"You're going to go through tough times - that's life. But I say, 'Nothing happens to you, it happens for you.' See the positive in negative events." - Joel Osteen
It is certainly acceptable to pursue other avenues outside of our field, but to throw in the towel completely is extreme. Unless you have lost your passion for health and wellness, you must stay steadfast on your course. Fortunately for me, my hobbies are also fitness-related. So outside of my full-time career, I began competing in fitness competitions in 2007. I set a goal that remained the same for eight solid years – to win the Fitness America Champions and become a competitive "fitness pro athlete." If I would have quit after a year or two of competing because I did not reach my goal fast enough or because I "didn't win the first time," I would have never lived to see and experience actually making my dream come true in 2015. We must lead by example. Sometimes it is acceptable to set a goal and not achieve it by the date you have in your mind or on paper. Most people do not become overnight fitness stars or make the salary they desire when first starting out. The majority of fitness icons have not only busted their butt in the gym and at getting their name known, but they have taken years diligently doing all the leg work and whatever it takes to reach "the top." And whatever "the top" is to them, after they reach it, they find a new mountain to climb. Essentially they do this by becoming their own agent.
3. Become Your Own Agent
"Parents should plant deeply the seed of work ethic into the hearts and habits of their children." - Joseph B. Wirthlin
Good work-ethic is hard to come by. Some people say you either have it or you don't. My father instilled in me as a child that I did not have to be the smartest kid in my class to earn an "A," but I did have to work and study hard to get one. And because of him, I believed I could earn anything I wanted in life as long as I was willing to put in the labor. Not fearing hard-work, long hours, and taking risks became the name of the game. Realizing that no one will do the work for you and it is up to you to seek out the necessary steps to reach your goals (unless you can afford a personal assistant or agent). One goal that I have achieved most recently is landing a monthly spot on a local Pittsburgh talk show as their wellness expert. I knew that in order to earn a spot on television I had to present myself as the total fitness package. Having a laundry list of certifications and qualifications is stellar, but what good would they be to me if I cannot not act and look the part of a TV fitness expert. I knew my online presence had to be impressive and I needed media reels and professional photos to back me up. I had spent several years building my corporate wellness company and had little need for having a huge social media presence. I felt that I had to make up for lost time. So, I locked arms with the best fitness mentor in the industry. With her guidance, I began to redefine my fitness brand. Going from the squeaky-clean corporate wellness world (that from a TV and media standpoint is rather boring) to a commercial fitness business with a live studio and online programs in less than a year - I was ready to build my new brand and redefine myself, again.
4. Define Who You Are
"A leader is one who knows the way, goes the way, and shows the way." - John C. Maxwell
Standing behind my old business name was what I was used to doing. It was important to me to be able to work with a team of like-minded people. Being a team-player was something I was accustomed to and I enjoyed it. After three years, I decided to retire my corporate wellness business in exchange for me – AubreyWorek.com, I was unnerved and a little scared. Operating under my own name was not something that appealed to me. At first I felt that it was too ego driven and I often thought, "Would people be drawn to just my name?" "How do I get them to trust just me?" With a new website, new social media pages, and lots of time spent on revamping everything I had worked on for the last seven years, I was ready to pitch myself to the local media. I sent out so many press releases that I nearly lost track of who I had contacted at one point. I was relentless. My hard work started to pay off. Suddenly my name and business would be featured in a local or national magazine, newspaper, or on a social media page. I was getting my name known and my new brand shown! After a few short months, I landed my audition on live television. Being prepared and well-rehearsed, in addition to being entertaining, was my main objective. Immediately following the segment I emailed the producer a concise list of attractive fitness topics that pertained to her television audience that I would be able to present on for future episodes. I let her be in the driver's seat, never saying, "I think you should do this one and have me back." My approach was sincere and I merely offered suggestions. After another TV debut I was cast to be featured monthly on her show. Landing the spot left me feeling very grateful for the opportunity that perhaps will lead to future opportunities. The important lesson I want to share is know your audience. Although my goal was to land a spot on the show, that was not the producer's goal for me. I had to think like I was her. What does she want to see? What do her viewers want to learn about? What will drive her ratings? The same is true as you build a social media presence.
5. Define Your Audience/Target Market
"A good decision is based on knowledge and not on numbers." – Plato
As I was hustling trying to build my social media presence, I got caught up in the storm of, "I have to have more 'likes' and followers!" But what will that get you if you have no value to your business or brand? Will it earn you a living? Well, eventually it may, however if you find yourself spending the majority of your time posting hot gym selfies and random videos of how-much-weight-you-can-squat, you can end up portraying yourself as one dimensional and even self-absorbed. Start by asking yourself these questions as you build your social media base:
What value will my posts be to my followers?
How can I further engage my followers with this message or post?
Am I sending a positive message to my audience?
Can I acknowledge and highlight some of my current followers and incentivize them for sharing my posts?
For example, my target market is multi-facetted. Knowing that the majority of my audience is females who enjoy dance, fitness, and holistic nutrition, posts to my social media pages are a mix of these things. It is important to work on growing a strong presence on all social media platforms, but I recommend selecting just two that you truly wish to build this year; otherwise you will burn out and risk becoming inconsistent with your message. My goal for 2016 is to grow my YouTube presence by establishing a professional YouTube channel. In addition to this, I will continue to focus on my Public Figure Page on Facebook to further supplement awareness of my brand.
6. Amp-up Your Sincerity
"The foundation stones for a balanced success are honesty, character, integrity, faith, love, and loyalty." – Zig Ziglar
What makes one instructor's pre-choreographed class different from another's who is teaching the same choreography to the same music? Is it her energy? Is it her confidence? Or her experience? I believe it's all three in addition to something you can't see, but you can feel and sense. Her sincerity. I am most attracted to coaches who are authentic and "real." When we teach or coach, we are being the best versions of ourselves. We are inspirations who passionately want to help motivate our clients and participants. If you notice your attendance declining in classes or your personal training retention dropping-off, it's time to amp-up your inner self that is meant to be shared with the world. I like to think that I feed off of the energy of my clients. Being sincere has helped me attract the people who are best fit for my style of coaching. I know I'm not the right coach for everyone who comes my way (and sometimes there are prospects that come my way and I know they are "not my client"). Convince yourself that there are plenty of fish in the sea for you to succeed in our field. You do not have to down-play other fitness professionals in order to make yourself look good. Instead, focus on your passions and strong suits. The right clients will come your way and chances are they will stick with you for years to come as long as you sincerely focus on your positive attributes and help them discover theirs. All of the steps above require us to commit to our commitment. Being loyal to your commitment is crucial in all aspects of life – relationships, sports, careers, etc. Moments of doubt and frustration are normal in all fields, but if you can use your struggles to work for you and learn from your experiences, you will find yourself as a leader in the fitness industry who has a strong following. You can be a life-changer for everyone you touch, improving the quality of health for all those around you.