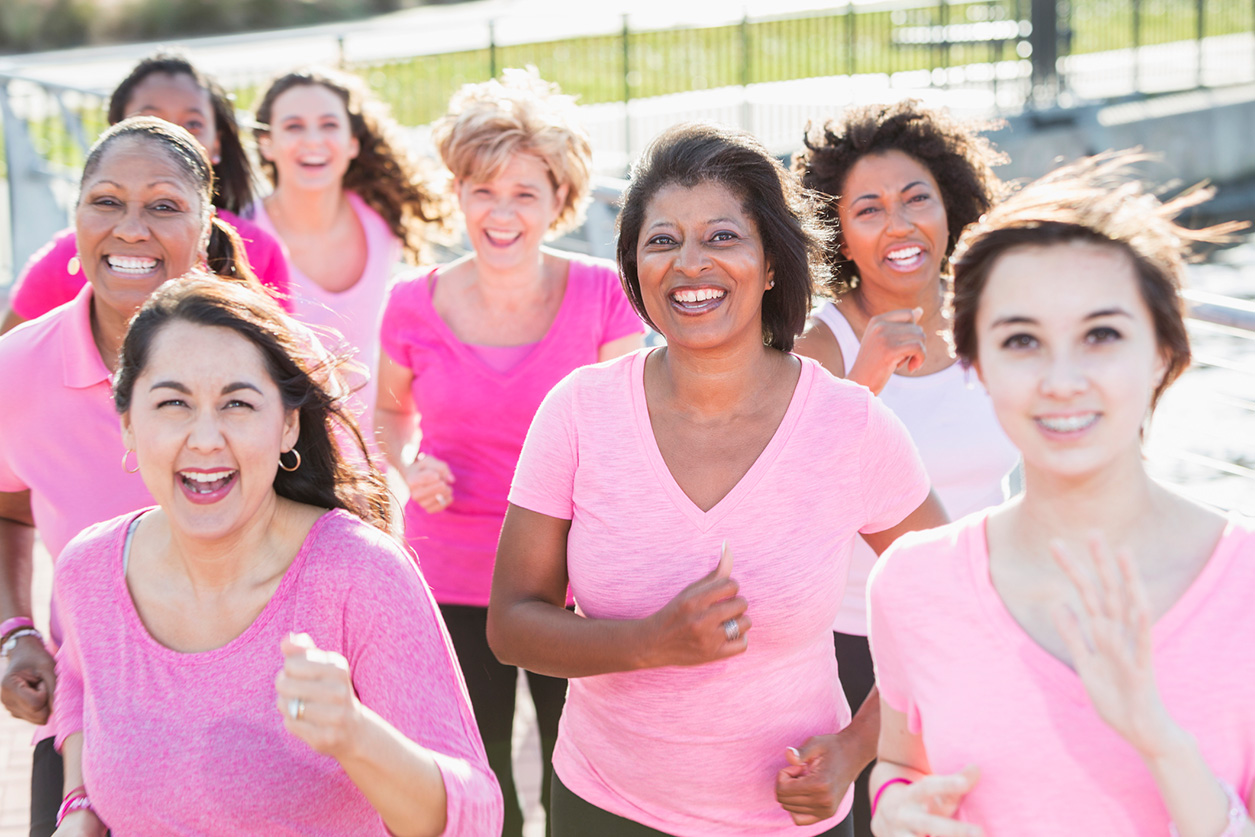 In addition to improving your clients' fitness, have you looked for ways to use your expertise and services to benefit a cause? With a little planning and creativity you can help make a positive impact. Share your social responsibility initiatives to help mobilize others to get active and help support a cause. New clients may potentially seek out your services if they know you are contributing to a cause they support. Year after year, top resolutions include volunteering or giving back to the community, whether with time or donations, along with other top contenders like getting in shape and losing weight. What better way to combine these goals than to engage your current and potential clients in fitness activities that support a cause? It's like a two-for-one deal benefiting the client and a good cause.
Train a Team
Whether it's a three mile walk or a full marathon, use your fitness programming skills to train your team for success. Plan out how much time and training you are willing to volunteer. Will you extend your fitness services with personal training, offer a discounted package rate for team members, or further support the cause with a portion of proceeds from these additional services? The choice and level of commitment is yours to decide. Another benefit of training a team is increased motivation and adherence, along with the camaraderie of its members. Exercising in a group has been shown to improve motivation and adherence. Members are now accountable to each other, rather than just themselves and their coach. During en event, team members can support and push each other through the challenge. And at the finish line, celebrate the fitness accomplishments and how much was contributed to the selected cause.
How to Choose a Charitable Group to Support
Consider what charity or cause touches your heart, and why. Perhaps you have a client battling a health issue, or lost a friend to cancer. Maybe you are passionate about changing the state of childhood obesity and want to help your local elementary school buy fitness equipment. Whichever you choose, be ready to share your story as to why you chose that group to support. If you are going to use a charities name to promote your fund raising effort, seek permission first. Position your promotional materials so that it does not imply the charity is endorsing you. Be fair and don't use their name to sell your services. Potential customers will see through this misuse and the charities definitely won't appreciate this type of support. Be knowledgeable about the groups you choose to support. If selecting a nonprofit, do some initial research to see how they spend the donations they receive. You can also check how a non-profit spends their money by going to sites such as guidestar.org. This site also has a directory of nonprofits you can search for based on causes. There is no requirement to limit your support to only one group. If you or your clients have additional causes you want to support, plan ways to participate in other events or fundraisers throughout the year. Perhaps consider hosting food, blanket, or pet food drives for different shelters or groups. But do try to limit fundraising support to one group at a time to avoid confusion and potential over-solicitation.
Promote Your Cause
Increase the exposure of your fundraising activities by sharing your program with local media sources, both print and online outlets. This is a great way to show your community (and potential customers) how you are using your services to promote social responsibility. You may want to also connect with local businesses to encourage their staff to participate or directly donate to the cause. Sometimes referred to as cause-related marketing, this approach shows that you are interested in more than just personal profit. This approach is not new, we've all encountered it, and maybe we've been able to more easily justify our own purchases for a good cause. As part of a best practice approach, clearly designate how much of the proceeds you will be giving, for example $5 from every training session or ½ of all proceeds from Saturday morning's boot camp. Be transparent in what you are going to donate (and how) to support the cause. There are many websites set up to help you fundraise, eBay even has functionality to sell services and directly deliver the designated proceeds of the sale to the specified charity. Check your local regulations (and with your accountant) about fundraising activities.