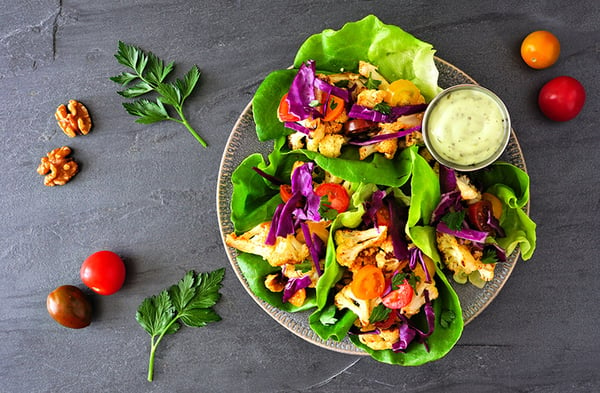 Plant-based nutrition has been a topic of conversation stemming from exposure in the media and recent research in the world of documentaries. The general public, including ourselves and clients, is left wondering about eating to improve overall health and wellbeing.
What does plant-based mean?
This term refers to a diet consisting of food being from plants [primarily.] Eating plant-based can help clients meet nutritional needs by focusing on natural, minimally-processed whole/plant foods. Variations include eating meat products while making meals still plant-based and allowing honey or other variations of "vegan" and "vegetarianism."
• Vegan is defined as food intake that doesn't include animal ingredients such as meat, milk, honey & eggs. In a plant-based macronutrient food balance, intake is primarily higher in carbohydrate and lower in fat and protein.
• Vegetarian is defined as food intake that doesn't include animal meat products while still allowing animal byproducts such as dairy (milk, butter, and cheese, for example.)
What are the benefits of a plant-based diet?
Research shows that plant-based diets are cost-effective, low-risk interventions that may lower body mass index (improvements with weight), blood pressure, HbA1C (diabetes improvements), and cholesterol levels. They may also reduce the number of medications needed to treat chronic diseases and lower heart disease mortality rates.
Additional improvements in health outcomes relate to improvements with blood sugar regulation and improved gut health. Plant-based diets have also been linked to increased longevity and enhanced health in centenarians (individuals who live to be 100 years old and older studied in "Blue Zones" research.)
What about being ready for plant-based changes?
When working with clients and looking to change our eating habits, we have to be mindful of which phase on the change journey someone is to educate appropriately and for their stage of growth:
1. Precontemplation – Someone plans make changes in the next six months but want a little bit more background and information.
2. Contemplation – Someone plans to start within the next six months.
3. Preparation – Someone plans to start within the next month.
4. Action – The client has made changes to their diet for less than six months.
5. Maintenance – The client wants to remember why to maintain progress.

There are simple ways to incorporate elements of plant-based eating into a diet regimen. Instead of looking at plant-based eating as a diet fad or trend, the goal should be to make small steps [at a time] to shift eating to embrace more whole food sources. Simple incorporation of change allows health benefits to take place that can trickle down to offer additional services for someone's health and wellbeing from plant-based sources.
• Dig for a deep-rooted WHY for these changes
o Are goals performative versus wellness-based goals?
o Debunk diet myths associated with this way of eating first
• INSERT new small habits
o Once a week, try a "Meatless Monday" or even a once-a-day meal that's solely plant-based
o Shift the perspective from "limitations" to "limitless."
o Remember, the goal isn't to be "all or nothing."
o Eat a rainbow for phytonutrient power
• INTEGRATE lifestyle habits easily
o Small steps mean significant changes over time.
o How did 'Meatless Monday' go? Feel?
o After inserting new habits, what improvements were made or seen?
The compound effect can be seen from shifts with eating when it comes to plant-based food integration. Understanding the basics of this lifestyle, why someone wants to shift their eating to incorporate more plants, and taking small steps to insert more phytonutrient power into their day can ensure a successful shift to this beneficial way of eating.

Disclaimer: I follow a plant-based eating lifestyle and work with clients interested in plant-based eating to support their health & wellness. This post aims to translate evidence-based nutrition science and behavior change recommendations into practical tools for improving the simplification of a plant-based way of life for clientele.
This information is for educational purposes only and does not replace independent professional judgment or the systematic and critical review of the broader scientific literature. The scope of practice is still to be taken into consideration when working with individual clients. If you are not certified as a NASM CNC and don't have the liability insurance to cover these topics, please keep that in mind.
For more information, check out this NASM blog piece on Plant-based Diets for Weight Loss:
https://blog.nasm.org/plant-based-diets-weight-loss
Also, learn more about the specifics of a Plant-based Diet with this NASM Nutrition series course:
Resources:

1. Tuso, P. J., Ismail, M. H., Ha, B. P., & Bartolotto, C. (2013). Nutritional update for physicians: Plant-based diets. Retrieved from https://www.ncbi.nlm.nih.gov/pmc/articles/PMC3662288/#:~:text=Research shows that plant-based, ischemic heart disease mortality rates.
2. Davinelli, S., D. C. Willcox, and G. Scapagnini. "Extending Healthy Ageing: Nutrient-Sensitive Pathway and Centenarian Population." Immunity and Ageing (2012) 9:9.
3. Bulsiewicz, W. (2020). Fiber Fueled: The Plant-Based Gut Health Program for Losing Weight, Restoring Your Health, and Optimizing Your Microbiome. Penguin Publishing Group.
4. Blue Zones Research: https://www.bluezones.com/research/
5. Katherine D. McManus, M. (2019, April 25). Phytonutrients: Paint your plate with the colors of the rainbow. Retrieved from https://www.health.harvard.edu/blog/phytonutrients-paint-your-plate-with-the-colors-of-the-rainbow-2019042516501
6. U.S. Department of Health and Human Services and U.S. Department of Agriculture. 2015 – 2020 Dietary Guidelines for Americans. 8th Edition. December 2015. Available at https://health.gov/our-work/food-and-nutrition/2015-2020-dietary-guidelines/
7. Bulsiewicz, W. (2020). Fiber Fueled: The Plant-Based Gut Health Program for Losing Weight, Restoring Your Health, and Optimizing Your Microbiome. Penguin Publishing Group.