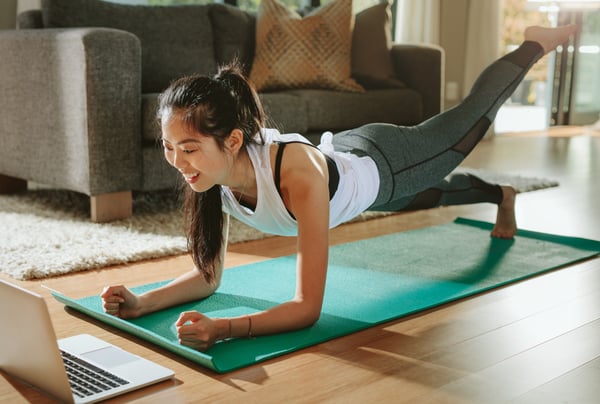 "Social Distance Group Fitness" - sounds like a great class, right? Due to the changes in the world, group fitness instructors are struggling to use fitness to connect and inspire participants.
Like all things in life, this too shall pass. Take this opportunity to make the most of this social distancing time and create a larger group of fitness followers - and even possibly shift towards an online personal training business.
There are all different levels and abilities available for social networking, keep an open mind about this information if you don't use social media.
You likely do us some form of social media, you just don't call it by name. The information in this guide will start with the basics and move to more complex types of media.
Let's explore the ways that content and social media platforms can help you connect with your group fitness clients.
Content Options for Group Fitness During This Period of Social Distancing
This is a collection of ideas to share with participants. Select one that feels authentic to your teaching style and is doable.
Check-ins
Workout Plans
Photo Workouts
Video Workouts
Live Videos
Let's look at each of these content options below!
Check-ins
Check-in with your members through any of the social media efforts that work for you. Send them a personal message or a mantra that can remind them of your connection. This can be done through text, direct message, and even email. Ask for some sort of response back, including the possibility of forwarding the message to another person they know that may need it.
Workout Plans
Create daily or weekly workout plans and post through social media. The programs can be as simple as a written description. Use terms and fitness moves that are commonly known, like jumping jacks or squats.
Photo Workout Plans
Snap photos of yourself doing the workout moves in your fitness plans. Some apps and social media forms allow writing right on top of the photo. Pick the most dynamic and original part of the fitness move to photograph. Most smartphone cameras work well in this medium.
Video Workout plans
Film a few repetitions of workout moves that you are putting in fitness plans. You can include audio voice to camera descriptions of what to do, how many, or how long. Some video editing apps also allow the ability to write descriptions over the video. Most smartphone cameras work well with this medium.
Live Videos
Apps, like Facebook, Instagram, and YouTube, have a live video feature that your members can join in and follow your workout as you do it. Let them know in advance the equipment and space needs they will have for the workout. Most desktops and laptops have cameras that will work well with streaming videos. Smartphones are also a good option. If you choose to use music in your live streams, make sure you are using legal music and are aware of the licensing laws. *, see the note from Yes! Fitness Music.
Ways You Can Connect on Social Media for Group Fitness
Once you've decided on the content you want to share, now is the time to connect. Here is a list of social media connections. Choose the ones that are most authentic to your teaching style, and you feel most comfortable following through on.
Email
If you are a personal trainer, you likely have a list of all your clients' emails and can offer training and tips through this. Group Fitness instructors are different stories, and probably don't have all the emails of class participants. Contact the gym or facility membership office or manager and ask to get a list of members and their emails. Or ask if they will send out an email for you with a request for a response. This is a win-win for the gyms, as they will keep in contact with their members during this time, and you offer free connections.
Newsletter
If your gym or studio doesn't already have a newsletter in place, this is a great time to start one. Join up with all the programs at your facility. Create separate articles and tips that speak to each program and each of the members. If your gym already has a newsletter, now is the time to offer at-home workouts, lifestyle ideas, and uplifting content that all relate to your unique skills.
Facebook
Facebook is a great way to connect to the attendees of your classes quickly. If you don't have a professional Facebook page, or you don't use it for your profession, now is the time. You can create a new page and keep it all business or adjust the settings, so family posts only get sent to family members, and everyone can see professional posts. The great part of Facebook is it connects you to more members when they are connected.
So even in this time of disconnectedness, you can connect to more people you already know. Facebook allows posts with multiple photos and longer videos, so it's perfect for demonstrating workout ideas.
Websites and youtube pages can also be posted on Facebook, so this is an excellent lead to other media formats. There is also a private messaging feature that is great for the participants that may not want to post questions to the public. Facebook Live is also unlimited and will save all your live videos as posts.
Instagram
Instagram is a lot like Facebook. They are like the two competitive gyms in your community. You teach at both, and they each have their own demographic. Instagram limits the length of videos and the number of photos that you can post. Instagram is much easier to follow because the content is so limited, and for the most part, stays in posted order even if someone comments on the post. Users reach more if everything you communicated is in a straightforward and simple way. Instagram also has a live video option that is great for posting content.
Zoom, Skype, Google Hangout, etc.
These are all virtual meeting sites that have become the new fitness studio. They offer free versions but limit the number of participants you can have as well as limiting the length of time you can be in the virtual studio. They do offer plans for monthly or annual fees that have more significant benefits like larger groups and longer times. There are many plus and minuses with each of these. If this interests you, the best thing to do is use each website to see which is the most user friendly to you.
YouTube
YouTube is a video sharing platform that allows an instructor to post videos of any length with long descriptions. It just requires the user to create a page where all the videos can be organized and published. This is a free service, but the flip side is YouTube will pay users advertising money if they have multiple subscribers and viewers. Any person, even those that don't subscribe, can search and find your YouTube channel, opening your social network.
Group Fitness is a very social program. Everyone, instructors, and participants are likely feeling the loss of connection at this time. Reaching out now can help supplement that connection and will pay off in the long run with closer connections.
Helpful apps and websites
Wordpress.com for creating newsletters and websites.
Venmo app for accepting donations.
Yesfitnessmusic.com for legal streaming music.
Note from Michael Pipitone, owner of Yes! Fitness Music.
Permanent postings of classes on platforms like YouTube, Facebook, and Instagram.
It is legally required to get permission from the owners of the recordings and underlying musical compositions if you are planning to post something that will be around for later playback. This is called Interactive or On-Demand licenses. This kind of music usage requires a "synchronization" license from the authors.
For almost all popular music, this has to be negotiated directly with the "Music Publisher" of a song. You also need permission from the owner of the master recording; this is usually a "Record Label" like Universal, Sony, Warner, Yes! Music. A Public Performance license is also required and can be issued by the US Performing Rights Organizations (ASCAP, BMI, SESAC & GMR).
In some cases, publishers can also include this with the sync license along with a reproduction right. A Public Performance license has been granted to all the major platforms like YouTube, Facebook, and Instagram from the major PROs. Still, the required Sync and Master Licenses have to be negotiated with Publishes and Record
Labels except in cases where publishers and labels have agreed to "whitelist" certain songs/recordings. If you are posting to your website, you need all of these licenses. Each requires you to secure and negotiate them separately when you upload for permanent use.
Posting Live Streams to YouTube, Facebook, and Instagram
Posting live streams removes some of these requirements because there is no Permanent file available for later playback, and this is called a Non-Interactive Stream. The Public Performance license is still required, but as mentioned above, the major platforms have these with the US PROs.
If you are trying to use popular music, the services will even "Mute" you if it is determined that you are using original recordings from record labels via Spotify/Apple Music. You see this daily on several Live Streams.
The key to a successful stream strategy is not to let your viewership down. Avoid risking your reputation with popular recordings and not keep your video stream recordings around after your class is finished. No matter how tempting it is to leave it up to count "likes" and read responses, leaving a live stream up puts your account in jeopardy.
You need sync and other licenses if you want to keep them available for on-demand views. Since you will not get these additional licenses without paying large fees (potentially thousands of dollars per song), you need a solution like Yes! Music Live Stream Now products that you can get as part of a subscription plan.
Remember, failure to immediately remove your live stream class can not only risk having your video taken down but if you repeat the infringement, you can potentially be banned from your social media account for copyright infringement.
Conclusion: Connection is the Goal!
The goal here is to connect to the people you've been working with, and possibly some new participants once life gets back to normal. You can do this by offering great content during this time of social distancing, Content to solve a problem or uplift participants. Everyone has the problem of nowhere and no way to do fitness right now, and everyone, regardless of what's going on in the world, loves to be uplifted.
These services can be offered for free or for a donation. Providing your services for free will create a greater connection through understanding; everyone is in the same boat. The community at large likely doesn't have money for gym fees or training.
The investment now will payout in the long run with continued connections with your attendees and possible referrals to new contacts. If there are attendees out there that can pay, they will go through a donation if given that option.
Now is an opportune time to double down on providing resources for your clients! For some great social distancing workout ideas, check out this resource hub for personal training during COVID-19!