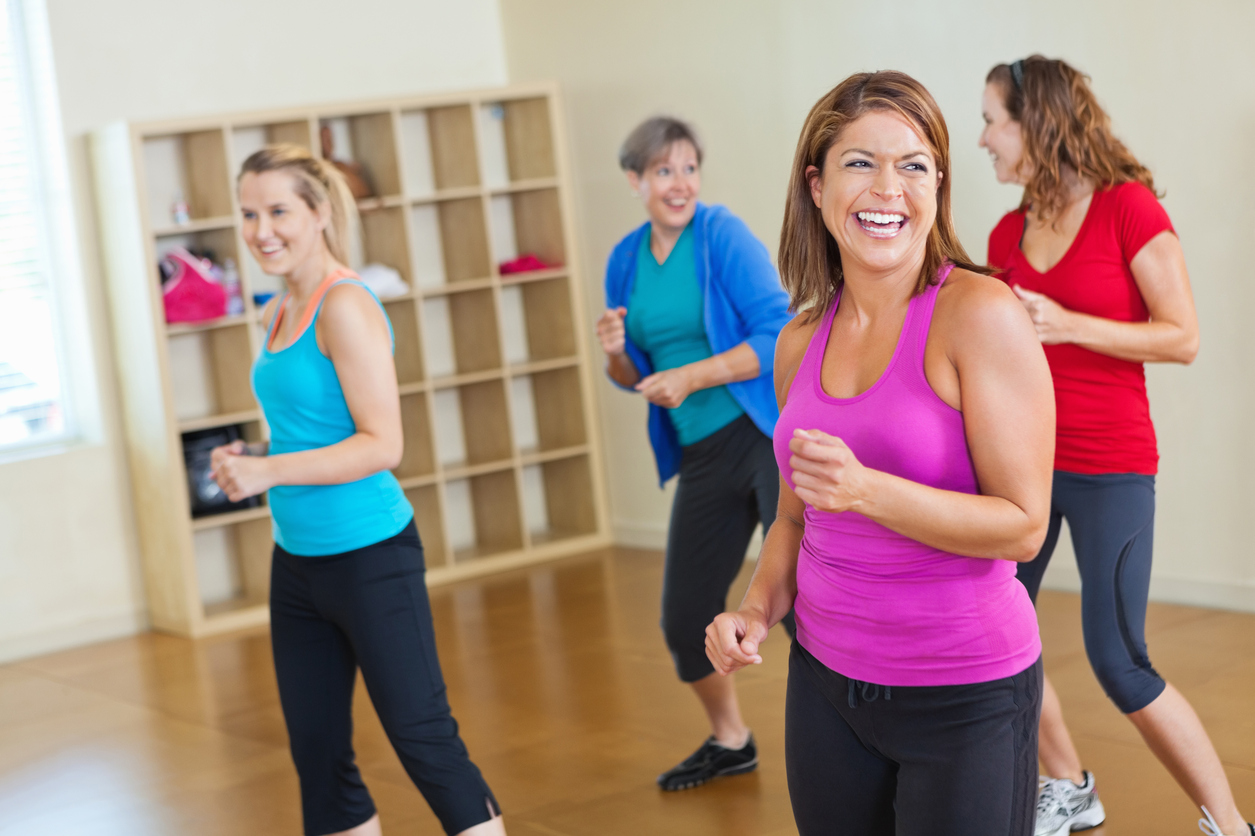 Spraying spit on participants. Passing gas in yoga class. Speaking privately into a "hot" mic. Calling a student by the wrong name. Sooner or later, most group fitness instructors have an embarrassing tale or two (or more) to tell.
While you can't always avoid cringe-worthy events from happening in your fitness classes, you can manage how you handle them. A light-hearted joke, a quick-thinking recovery and a willingness to laugh at yourself all help diffuse mortifying moments. Responding with grace and humor might also score you points with participants who appreciate catching a glimpse of your vulnerable side.
Check out the following roundup of real-life embarrassing stories from the brave fitness instructors who've dared to share their unfortunate experiences. You'll certainly be entertained—and might even LOL—but you'll also garner guidance and ideas for handling potentially awkward scenarios of your own (er, knock on wood).

Unintentionally Sharing a Private Moment
Lori Patterson, CEO of Victelib and creator of Boot Camp Challenge®
"I put my mic on and decided to run to the potty before class. When I came back into the group exercise room, all 40 participants waiting in there clapped. My mic had been on. They said I peed 'real good.'"
Jennifer Wick, group fitness and indoor cycling instructor
"Right before teaching, I quickly reached into my bag to grab something and accidentally threw my underwear across the floor. I felt like I was in slow motion as I leapt over the steps in retrieval. I crunched the underwear up in my hand and tried to walk away as casually as possible. I was hoping to get away unscathed, but I could hear a few people giggling. So I decided to own up to it, announcing into the microphone: 'That's right, I just threw my underwear across the room.' A quick shoulder shrug and an increase in music volume did the job. It was probably over in about 10 seconds, but it felt like the longest 10 seconds of embarrassment for me! Luckily, it was an all-ladies gym and no one ever mentioned it again."
Wardrobe Mishaps
Ira McNamara, fitness and wellness coach at Cornerstone Fitness
"On two different occasions I was prepping to get started for a class and slid my athletic pants down. As I sat on the step, I realized the step felt cool on my thighs…I was not wearing my shorts! I stood up quickly and pulled my pants back up. But, as you can imagine in a room full of ladies, there was some hooting, hollering and carrying on. Trying to make light of it, I joked that times are tough and I thought this would be a good way to get tips! I now triple-check that I am wearing shorts before I remove my pants in front of the class!"
Amanda Vogel, fitness presenter, writer and blogger at FitnessTestDrive.com
"I once wore a brand-new (not yet washed) black hoodie to class. When I took it off after the warm-up, I noticed from my reflection in the mirror that some of the black fleece from the inside of the hoodie had stuck to the deodorant in my armpits, making it look like dark, ample underarm hair when I lifted my arms. And, of course, when you teach fitness, you lift your arms a lot. I was in the middle of teaching a choreography sequence, so I had to just go with it. As soon as I could though, I grabbed a towel and tried to discreetly wipe the fleece away, cracking a joke about the effect it had produced."

Melissa Layne, faculty member in Kinesiology at the University of North Georgia and author of Water Exercise
"Back in the 80s, I was teaching a hi-lo class. We were running and using various arm moves, including chest-level rows. I guess my range of motion was too big because my bra came unhooked and started working its way out of my leotard (hey, it was the 80s). Before I knew it, straps and cups were flying everywhere! I left a front-row participant in charge of the class while I ran to the bathroom. Next day, I tightened all my bra hooks with pliers."
Di Hickman, personal trainer and owner of dihickman.com
"A couple of embarrassing moments off the top of my head include the time I wore odd sneakers to class. One was a running shoe, the other a hi-top. There was also the time I wore a lovely matching maroon shorts/bra outfit only to discover, 40 minutes into a hi-lo class, that the sweat made me looked like I'd peed my pants."

Sleeping In
Leanne Zdebiak-Eni, owner & instructor at Studio IPF: Inner Pursuit Fitness
"My class started at 8:30 a.m. and my alarm didn't go off. I woke up at 8:29! That was extremely embarrassing. There was another class starting at the same time in a second studio at my facility, so the participants went to that class instead. The instructor of the second class was awesome, taking charge and inviting my group to join hers when she saw I wasn't there. After that, I offered my participants a free class and apologized profusely! They were all extremely understanding."
Stumbles, Trips and Falls
Christine Ekeroth, freelance health and fitness editor, former group fitness instructor
"I tripped and fell flat on my face about 20 minutes into teaching my first class by myself. I worked at a private spa, leading hikes and doing weigh-ins for guests. I filled in for a class a day or two after having foot surgery and my toes were numb. I couldn't feel them and tripped. One of my proudest moments is getting up to finish the class instead of dying right on the spot. It's amazing I ever got up in front of a class ever again! I taught for another five years after that."
Carrie Haines, Savvier Fitness Master Trainer for Barre Above™ and Tabata GX™
"When I was teaching step, I tripped and fell backwards over the step, landing on my butt. It felt like I was in slow motion for a moment until I hit the ground. There was a loud gasp from the class. I quickly got myself up and laughed it off. After class, I realized I had a nasty ankle sprain. The worst part was that it was a new combination I'd been bragging about."

Covering For an Embarrassed Participant
Dominic Frazier, owner of Frazier Fitness Human Performance & Nutrition Consulting
"I was teaching an indoor HIIT/Boot camp class for women. The energy was high and I was going around the room motivating everyone. A woman was killing it on the battling ropes, so I started challenging her with cues, such as walk forward, backward, reverse lunges, jumping jacks, grappler's throw, etc. All of a sudden there was a wardrobe malfunction that left her exposed on top—she was in shock! I quickly grabbed one of the ropes and shielded her from the class while she adjusted her shirt. She later thanked me for keeping cool, not embarrassing her and making it a great class."
Amanda Vogel, MA, human kinetics, is a self-employed fitness instructor, presenter and writer in Vancouver, B.C. In addition to being a social media consultant, Amanda tests fitness gadgets, gear and clothes and writes about them on her blog www.FitnessTestDrive.com. Find Amanda at @amandavogel on Twitter, @amandavogelfitness on Instagram and @FitnessWriter on Facebook.