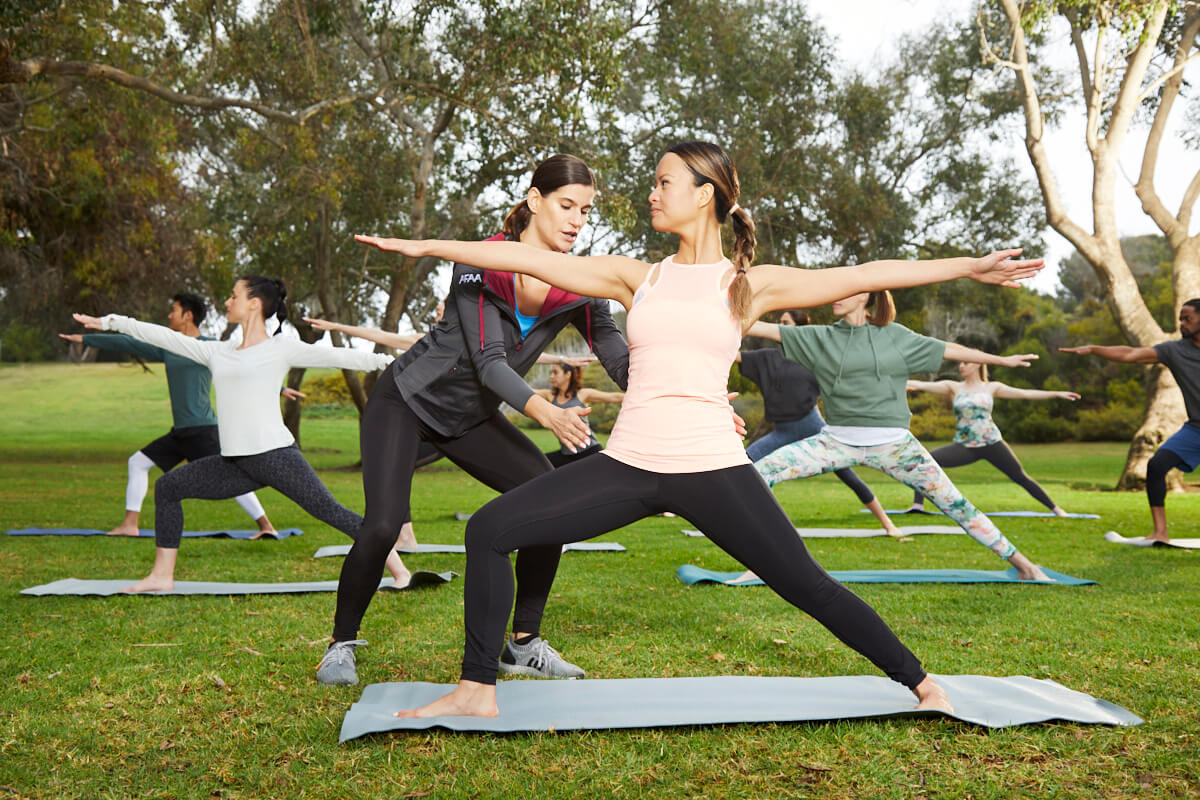 Now that the weather is warmer, hosting outdoor yoga classes and events are in high swing for yoga instructors and studio business owners. Even corporate fitness professionals plan to incorporate outdoor classes within their programs this time of year.
A common benefit of hosting outdoor classes is that doing so can increase or maintain interest and excitement during a time of year when participants are tempted to skip their workout to enjoy the sunshine instead. Additionally, seasonal offerings outdoors help participants stay consistent with their yoga workouts without losing their chance to spend time outside.
There are important considerations to keep in mind while planning an outdoor class to amplify the success of either a special one-time class or a weekly series.
Location Accessibility

It is important to consider location accessibility during the planning process. Where is the proposed location compared to the facility or studio that students are accustomed to going?

If participants need to travel too far out of their usual routine to attend the class, it might negatively impact participation. Outdoor classes are most successful when the location is still convenient to the usual demographic area.

Aesthetics

Simply taking yoga outdoors does not always result in the same zen-like experience participants might experience in the studio. Aesthetics are important to factor in as participants want to feel that they are still practicing in a serene environment that cultivates a sense of calmness and peace. You could look for a green space with beautiful flowers or trees nearby, or set up your class in a section of a park or courtyard that is more removed from off-putting aesthetics.

Environment Noise

Parks are a great choice for outdoor classes. However, if you are interested in hosting the class in a popular green space (think Rittenhouse Square in Philadelphia, or Millennium Park in Chicago), be mindful that noises from crowds and traffic can impact the ambiance of the experience and how well students can hear you speak.

Furthermore, these distractions can decrease participant focus and attention within the class itself. That being said, try to host the class as far away from environmental noise as possible so that teaching cues are not drowned out.

Surface

Are you planning on hosting the class on grass or pavement? It is important to be mindful of this detail since each choice impacts the participants' experience and class sequence differently.

If considering grass, be mindful of the last time it rained. Practicing yoga outdoors on the grass is best if the ground is dry and solid, not muddy. Additionally, know that grass might sink more under students' hands in downward facing dog and other hand weight-bearing poses, so students will have to be particularly mindful of wrist alignment and hand placement.

If hosting the class on pavement, know that the surface will be harder than normal and possibly more dangerous; especially if teaching arm balances and inversions.Therefore, remember to keep the surface in mind when planning the class sequence in order to avoid possibilities of students falling and hurting themselves.

Class Sequence and Props

Speaking of planning out the class sequence, know that the same props utilized within the studio or facility might not be available outdoors. Consider teaching more standing balance or upright poses instead, where yoga blocks, bolsters, and straps are not needed.

Furthermore, think about reducing the intensity of the class so that simpler poses are practiced. Gentle yoga is much easier to teach outdoors than an advanced inversion class.

Oppositely, if props will be available during the outdoor class, consider the transportation of these items to the outdoor location and any post-class clean-up that might be needed. For example, outdoor yoga mats and props may get dirty so plan ahead for post-class cleaning. One way to avoid this altogether is to have the outdoor class be a BYOM ("bring your own mat") event.

Hydration and Safety

It is important to pay attention to participant hydration needs if humidity and temperatures are higher than normal, or the duration and intensity of the class itself warrants higher water intake.

It is highly likely that some participants might forget to bring water, so it's necessary to plan ahead to avoid potential heat emergencies.

More specifically, find creative ways to promote and encourage hydration within the program planning. You could include a bottle of water in the cost of the class itself, have the instructor bring a few extras just in case, and send hydration reminder emails due to the outdoor heat.

Lastly, from a risk management perspective, make sure the instructors know the signs and symptoms of heat related illness and how to respond in case there is an emergency.

Alternate Location

There is always a chance for rain on a date selected for an outdoor class. Prior to scheduling and coordinating the event, communicate a rain date or Plan B indoor option.

Furthermore, decide how to get in touch with participants if a class gets canceled due to weather. Decide on a communication process beforehand, whether it is through Facebook or email, so that participants know in advance how they will be informed.
In order to effectively lead an outdoor class, consider the factors discussed here throughout the planning process. For continued success with hosting classes outdoors, self-reflect after each event. Think about what went well and any possible improvements you can make so that the next event goes even better. Self-reflection is crucial for program improvement.