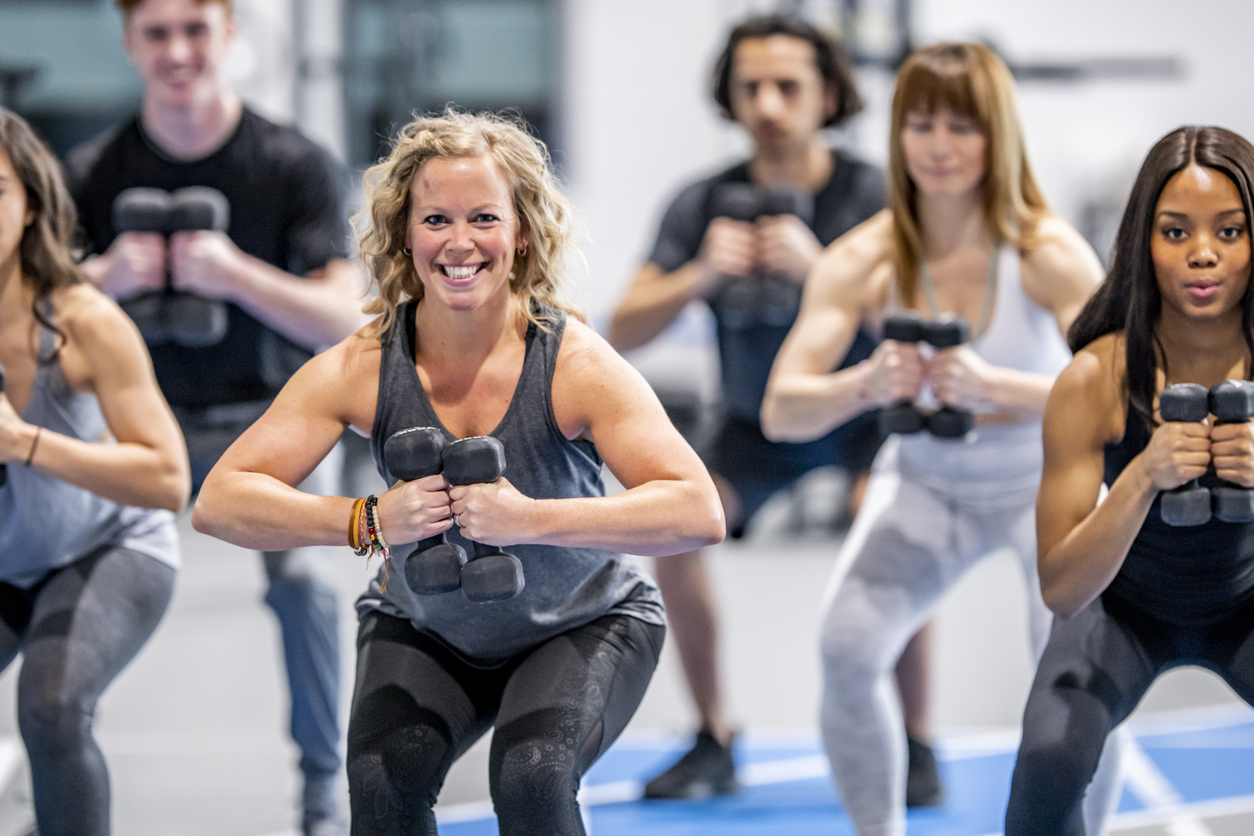 We've all had a "Monday!" You know, the most dreadful of days, where nothing went your way? The clock turns to 5:00 PM and your boss gives you something that "has to get done today." It's now 6:47 PM and you have enough time to make it to the last class offered at your gym. Finally! You make it to the gym. You wander into the studio at an unfamiliar time to an unknown format and instructor. You think to yourself, "Here goes nothing . . ."
What comes to mind when you hear the term, MEMBER RETENTION? I connect member retention to engagement and satisfaction.
There are many ways to encourage enrollment and retention at gyms: free month of dues, fitness challenges, buddy passes, discounted rates, and the list goes on.
There are primarily two types of members at the gym: fitness floor (weightlifters & machines goers) and group fitness enthusiasts.
Regarding Group Fitness, we know three variables help us with member engagement and retention to the program: time, format, and instructor.
Time
This is an important component to ensure schedules target the gym's busiest hours.
Format
What type of group fitness classes does the gym offer? Does the schedule balance equal amounts of cardio, strength, HIIT, and mind/body formats? Members tend to be opinionated and vocal about class schedules. Nailing down the perfect format is vital to ensure member engagement and satisfaction.
Instructor
While time and format are imperative, the authenticity of the instructor is [hands-down] the MOST CRITICAL component to membership retention.
Let's go back to the beginning . . .
So, there you are thinking to yourself, "Here goes nothing." The instructor has the room set up, playing a sick playlist of your favorite songs, and walking around introducing himself to everyone. Literally! He is having a brief conversation with each member with a smile on his face. The instructor is very personable and enthusiastic.
He walks over to you and says, "Howdy! I see you got the correct equipment. Have you been to this class before?"
You exhaustively respond, "No, this is my first time. I'm only here because I got out of work late."
The instructor replies, "I'm super excited to have you here and hopefully it won't be your last!"
You think to yourself, "Not unless I can help it, or if my boss starts making me work late regularly."
Class gets started, and all of the sudden that super enthusiastic instructor says something you think about . . . "Make some noise if you've had a case of the 'MONDAYS.'" You chuckle, bringing just enough attention to yourself so that the instructor looks you dead in the face, smiles, and says, "Well, raise your glasses and let's toast to having a BOMB-ASS workout!"
During the warm-up, the instructor says, "Pick one affirming word about yourself and use that to push yourself throughout the class. You pick your word!"
During the class you notice the instructor helping you and others to correct form and posture. His encouragement, motivation, and smile are contagious. When the workout starts to get rough, the instructor looks you dead in the eye and says, "We've got 60 seconds left of work. Remember your affirming word from the beginning of class. Push yourself to obtain that feeling. Become that word! Three . . . two . . . one . . . finished!"
The final interval is over, and you did it! You successfully finished a new format and time slot with a new instructor. In the cool down your new instructor gives his parting advice, "Did you become your word? Team, relish in your small accomplishments because the smallest steps will lead you that much closer to your end goal! Be proud of making time today to fit you into your schedule. I'll see each of you next time and whatever you do until then, be good or be good at it! Bye y'all!"
I have been a group fitness instructor for nine years. I have taught numerous formats at countless times of the day. My most recent instructor gig scheduled me primarily during odd times. Most days I taught the opening and closing classes of the day.
I'd stand outside the group fitness studio, observe the classes before mine, and wish that I taught during those busy time slots because there were so many people! My classes were primarily at 7:30 PM, 5:30 PM on Fridays, and 10:15 AM on Sundays. I would get down on myself with the thoughts that I wasn't "top talent" and "I didn't have what it takes" to get the "primetime" time slot.
Eventually, regardless of the time or which day, I realized that my classes were being booked. I was shocked! Why would people want to come to times that were at "off-times?" I mean, Sundays were for two things: brunch and religious traditions.
After having time to take it all in, I decided to inquire about the members' thoughts regarding their presence in class. I got various answers like, "This time works for me" and "This is the only format I like." (Neither of which surprised me.) One member's comments did stand out when she replied, "You!"
"You!" That shocked me. Why would the members come to class because of me? The members elaborated on how I made them feel important. How I made them feel seen. How I distracted them from their realities to find joy during our workouts. Those comments hit me hard. They made me think. I thought, "I didn't do anything that wasn't out of my character. So, what was it that allowed me to connect with my members? Why did the members find it easy to relate to me?"
Then out of nowhere, BAM! It hit me. We are always searching for authenticity, a special connection. I seldom act in a way without being myself. I hate not being me.
I am awkward. I tell jokes, sometimes they're funny. I talk to my members, all of them. I ask tough questions that push their boundaries. I play the music that I like to hear. Dolly Parton is a regular on my playlist, along with Beyoncé and Britney! Essentially, what I am getting at is that members liked learning who I was as an instructor. Most importantly, members felt the realism and value that I provided them in every group fitness class by simply being me.
The power of connection influencing member retention boils down to authenticity. Members will flock to authentic instructors, regardless of times and formats. There is a difference between an instructor who is there for the money versus an instructor who is there for the joy of helping and growing others. There is something about showing your authentic self that creates a bulletproof shield, allowing the instructor to be the most valuable tool in terms of membership retention.
My advice: Be you and go connect with your members. BE GOOD OR BE GOOD AT IT!