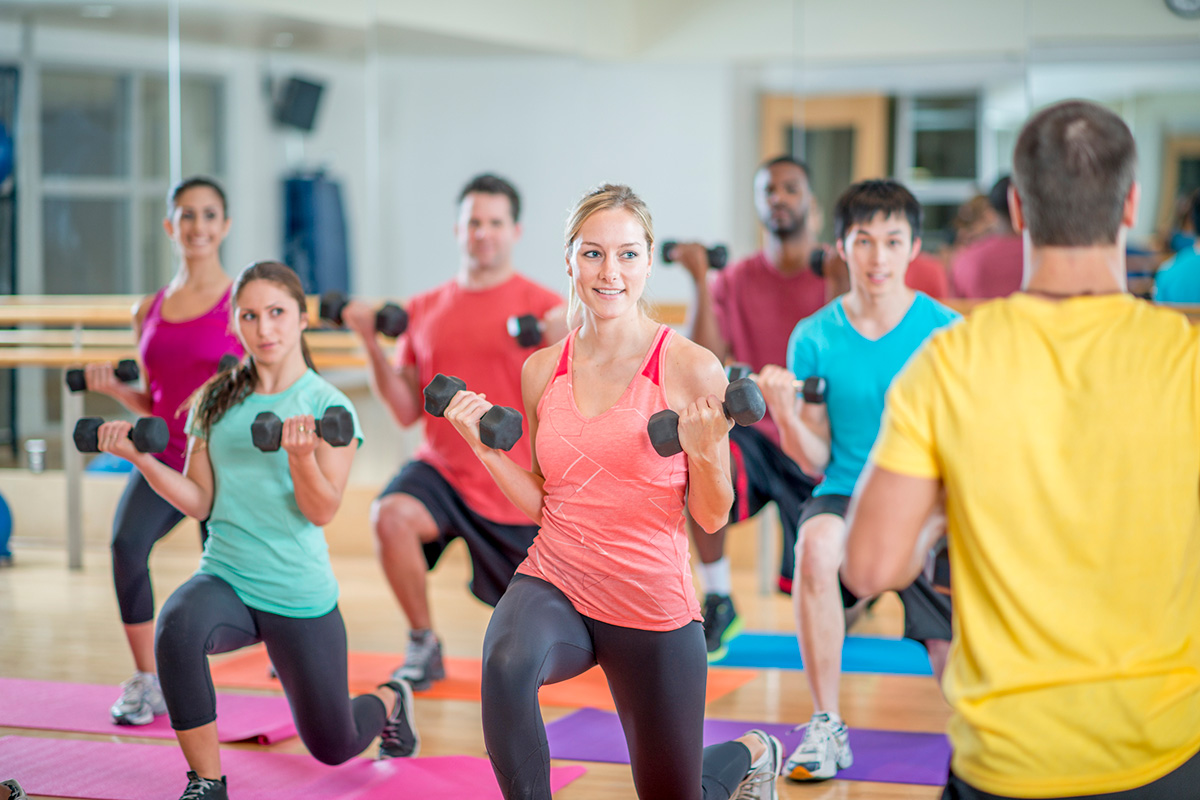 What Can We Learn From One Another?
Group fitness has certainly evolved over the years. Thanks to changing trends in the industry, better education and certifications, along with more programming options, a movement that gained popularity in the '80s is still going strong today. So popular that a hybrid form of training, group personal training, has come to the forefront and effectively bridged the gap between one-on-one training and large group exercise. While some view group personal training as a unique entity from the larger group exercise class experience, when it comes to the decades old concept of gathering groups of people together for the common purpose of getting fit and having fun in a safe, energetic environment, I think Billy Joel said it best, "Everybody's talkin' 'bout the new sound, funny but it's still…" group fitness to me.
Whether you're leading a group of five, fifteen, or fifty individuals, and whether you refer to them as clients, participants, or members, what those individuals benefit from is the driving force behind a successful group fitness experience: a shared sense of community and support, and enough energy and passion to ignite a room and inspire unparalleled loyalty and commitment.
While we've come a long way from skin-tight leotards, headbands, and high-top tennis shoes, the aerobic movement of yesterday provided the impetus for the group personal training movement of today. We may be teaching kettlebells instead of high impact aerobics, but it's the group dynamic that many in the industry who aren't traditional group fitness leaders have become increasingly eager to emulate. Those of us who have been in the trenches for decades, playing both sides if you will, training individuals one-on-one and still sharing our passion with groups, love that group personal training promotes value in what we know best. We're inspired that the industry is recognizing the value of group training, no matter its size. Rather than focus on the differences between the two, we're happy to appreciate the merits of both. That said, what is it that separates us, and what can we learn from one another?
Where Group Fitness Instructors Excel
Personality: According to Fabio Comana, faculty instructor for NASM, "I have a better chance of taking a group fitness instructor and making them a successful small group personal trainer than the other way around. The reason is that it's a lot easier to teach exercise science than it is to teach personality traits that are typically associated with successful group leaders." While it's not a given that a group fitness instructor lights up the room with his or her personality, it is pretty much part of the (unwritten) job description. We know that the bigger our personality and the more engaging and charismatic we are, the more participants are drawn to our classes.
Creating an Experience: Trainers can train. Group fitness instructors can teach. But what separates the pack is how well an instructor can create an experience. When I teach group fitness instructors how to lead groups, I tell them that participants won't remember the moves they taught nor the specific reasons why they enjoyed the class, but they will remember the experience. From the sense of belonging, to the energy and excitement throughout the class, to the sense of accomplishment they feel when they leave the room, that's what will inspire them to come back. As Comana eloquently stated, "Group exercise instructors are known to create a dynamic group experience, one that fosters camaraderie and social support."
Reach: I can train one-on-one, and in one hour I can make a difference for one person. I can train a small group and in one hour I can make a difference for 10 people. Or I can teach a group fitness class and in one hour I can make a difference for 30 or more people. For those of us who love to inspire the masses, this feeling is unparalleled. Not to mention, we thrive off of the challenge of developing a routine, cueing it to perfection, then watching participants move in harmony and bring our creation to life. It speaks to our ability to 'cue and do' at the same time, and it's a skill that takes time, practice, and patience to perfect.
Where Group Personal Trainers Excel
Quality Control: Without a doubt, group personal training lends itself to more individualized instruction, thus greater opportunity for the trainer to correct posture and alignment, and to modify exercises to better match the needs of each client in the group. While this doesn't guarantee superior delivery, higher quality programming, or better leadership, a smaller group offers the opportunity for this to be the case. That said, we know that any group led environment is subject to the experience and expertise of the instructor or trainer, and this varies widely throughout the industry in the group fitness world as well as the world of personal training.
Training and Education: While credible certifications are now mandatory rather than optional in the group fitness space, and training standards have been elevated, there is a difference in education and training for group fitness instructors vs. trainers. While many group fitness instructors are also certified personal trainers, that isn't necessarily the norm, and there are some who have limited training and education. Fitness instructors who get certified to teach one format under a branded program, for instance, may have limited knowledge outside of that format. A group fitness instructor certification on the other hand will teach theory and practical application, giving the instructor a broader, more credible base of knowledge. Trainers, in theory, are required to have their personal training certification before they train, and if they pursue extra training and education in how to lead groups, they can master both. The bottom line is that even if your club doesn't require it, instructors and trainers may want to add to their knowledge base to ensure their certifications and specializations widen their scope of practice and set them up for success. According to Comana, "It's all about developing value. It may at the outset look like the same thing, but small group training allows for a more customizable experience. A personal trainer has a background in exercise science and experience in developing goal-oriented instruction that is catered to each individual in the group."
Money: We all want to pursue our passion, but money pays the bills. I can train one person and make somewhere in the range of $80 or more per session. I can train 10 people and charge $20 per person per session, and make $200 in one hour. Or I can teach 30 or more people in one group fitness class and make as little as $20-25 per class, no matter the size. Dollar for dollar, we don't have to be good at math to see where to go to follow the money.
Today, the value of exercising in groups is evident based on the amount of programming and education the industry has devoted to bringing clients, members, and participants into a setting where energy and motivation are readily available. From traditional group fitness classes like step and total body conditioning, to indoor cycling, TRX, boot camps, and kettlebell training, everyone seems to see the value in group instruction. I think it's fair to say that both sides, trainers and group fitness instructors, have something to offer. If we're willing to learn from one another we can raise the bar in the industry and be a leader in our field. In the end, to lead groups effectively it takes a combination of natural talent, strong certifications and education, hard work, and experience.
For more personal training tips, check out PTPioneer.