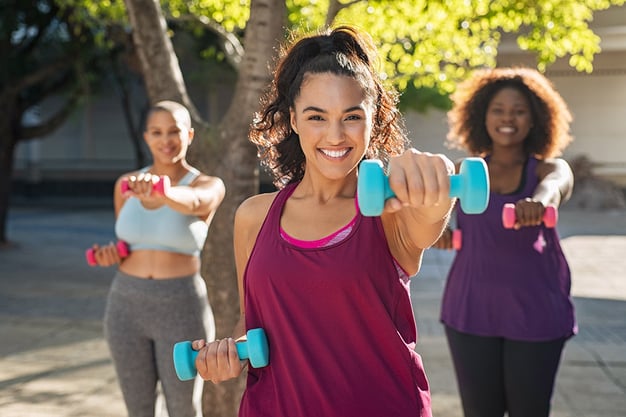 Group exercise has gained popularity as more people find it fun and engaging. This is usually because of the group mentality. Participants challenge themselves more, work harder, and are committed to reaching their fitness goals. As it is, group fitness isn't going anywhere soon.
If you are a fitness enthusiast, hoping to join the fitness industry, this is the perfect place to start. It is also a great option for personal trainers hoping to increase their client base. A Group Fitness Certification is vital to help you unlock the potential in this niche.
The certification sets you apart from others and gives you an edge. It helps you get started and build a career with a strong foundation.
So, how exactly does it do that? What are its benefits?
Let's explore further.
An Overview of Group Fitness Training
Group fitness workouts vary widely because different groups of people have unique health needs. The type of class you'll run depends on your clients' goals. Your experience and expertise also play a significant role. You can choose to do boot camps, body pumps, HIIT classes, or yoga, to mention a few.
To become a group exercise instructor, you need a group fitness certification. This is because group fitness comes with its challenges of group dynamics, large group program design, choreography, and group exercise routines, which can be overwhelming if you don't have an educational background.
There are different groups you can train as a Group Fitness Instructor. You can opt for small group personal training that comprises 2-10 members. This could be a small group strength training for kids, a body balance lesson for seniors, or a small outdoor yoga class.
You could also work with groups of 10-40 people. Such large groups are more demanding in terms of planning, coordination, control, and the training itself. You must assess individual performance on the spot, challenge them, and ensure everyone is at par without losing focus of the group.
Next, you can focus your group fitness to a particular clientele. This way, you curve your market to serve specific groups like seniors, teenagers, or athletes. Choosing a particular niche helps you offer specialized services for the target group.
Lastly, your workouts can take place online, offline, or both. Each platform has regulations you must adhere to. For virtual group training, taking a personal trainer certification online will give you an added advantage.
Group exercise attracts a lot of potential clientele because it's cheap as compared to one-on-one training. The fee could vary from $20 to $40 per session per person. Group exercise capitalizes on numbers. The bigger, the better.
Since you'll be using the same amount of time per session as personal training, you earn more from a group session because of the collective payment.
What You Need to Become a Group Fitness Instructor
Group fitness has risen in popularity over the years. As the demand increased, the training standards and requirements to become a group fitness instructor have also been elevated.
Though there is no limit to how far you can go with your education, there's a basic qualification to enter the industry.
Educational Requirement
At the entry-level, people get into fitness with a high school diploma. Trainers also have undergraduate qualifications in exercise science, exercise physiology, or sports medicine. Others have taken up masters or doctorate fitness programs.
Apart from the above educational background, branching out to group workouts requires Group Fitness Certification. Prior certification as a personal trainer is recommended, but not required. Your experience as a personal trainer can help you transition into group exercise with ease.
Several organizations offer Group Fitness Certification.
We at the Athletics and Fitness Association of America (AFAA) offer comprehensive, hands-on experience in group exercise training. The course covers diverse topics such as training modalities, fitness business management, nutrition, etc.
Personal Trait
There's more that goes into group exercise than academic qualification. As a group fitness instructor, your energy and personality directly impact every session you lead. Therefore, you must be a positive individual, a team player, a leader, a self-starter, and a motivator.
A positive attitude will hook your audience and inspire them to engage in each workout with renewed energy. Your body language and attitude create a ripple effect in your sessions. Prepare in advance and always strive to maintain a jovial mode.
People have unique characters. You'll be working with a dozen personalities at any given time. Take time to establish a relationship with your clients and look for ways to challenge them and inspire them to reach their full potential.
You have to prepare the sessions, choreography, routines, microphone, the workout space, and any other thing yourself. This needs commitment. If you can't work unsupervised, group fitness isn't for you. You must be a self-starter.
As a leader and a team player, you must motivate and encourage. Your personality should light up your workout session.
Group fitness is an excellent career choice if you thrive in a team setting, and love being the center of attention.
Benefits of Group Fitness Certification
Having a group fitness certification sets you apart from the crowd.
Here are the reasons why group certification is a must-have if you are passionate about group fitness.
Become an Expert
The group fitness programs, like AFAA's, cover a wide array of topics. You'll have in-depth knowledge of fitness programs' designs, client's safety, anatomy, different group training methodologies, muscle selection, fitness business management, marketing, to mention a few. These skill sets enable you to perform your duties effectively and better help your clients.
A certification in group fitness is proof that you've learned and exhaled in your studies. It shows you are committed to the industry and your clients. You are a professional and can perform group workouts to the industry standards.
You can help your clients meet their individual goals in a group setting. You in a position to motivate, build a relationship with your clients, and push them to succeed. Using the industry's best practices sets you apart in your practice.
Work with Diverse Groups
The certification equips you with the skills and knowledge to work with diverse groups. You can train various formats, including but not limited to cycling, HIIT, resistance training, athletic cardio, among others.
Certification allows you to address the health challenges of different groups using a variety of training models. You'll also be able to perform fitness assessments accurately and guide clients accordingly.
Show Your Credibility
The fitness industry is highly competitive. When it comes to opportunities, employers will hire someone with a certification in group fitness over one who doesn't. This certification adds value to your resume. It is a requirement to work in any health club.
If you have your practice, clients will only trust your credibility if you are certified. It proves that you know what you are doing. The same goes for making your name in the industry, among your colleagues and fitness associations.
Offer Fitness Education
With your expertise, you become a hub of knowledge to your clients. Often, you'll receive questions about the workout regimen, the precise movements, dieting, and proper nutrition. As a certified Group Fitness Instructor, you can handle these questions with confidence and guide your clients appropriately.
Also, you can organize fitness workshops and further help your clients live a whole, healthy lifestyle.
Conclusion
Group Fitness Certification is a badge that asserts your qualifications and a tool that sets you up for success in the fitness industry. You'll be better equipped to work with diverse groups, manage them, and help them reach their goals. You stand to increase your income while simultaneously transforming the lives of the masses.
Beyond having the certificate, have fun with your clients. Remember, most people who opt for group exercise perform because of group energy. So, master the art of inspiring your clients to meet their training goals. Pay attention to individual needs as well as group goals.
Further, commit to continuously learning new skills, stay abreast of industry trends, and create a fulfilling workout experience for your group.
Written by Tyler Read